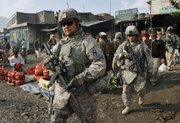 Lawrence, Mass. — A majority of Americans see no end in sight in Afghanistan, and nearly six in 10 oppose the nine-year-old war as President Barack Obama sends tens of thousands more troops to the fight, according to a new Associated Press-GfK poll.
With just over 10 weeks before nationwide elections that could define the remainder of Obama's first term, only 38 percent say they support his expanded war effort in Afghanistan — a drop from 46 percent in March. Just 19 percent expect the situation to improve during the next year, while 29 percent think it will get worse. Some 49 percent think it will remain the same.
The numbers could be ominous for the president and his Democratic Party, already feeling the heat for high unemployment, a slow economic recovery and a $1.3 trillion federal deficit. Strong dissent — 58 percent oppose the war — could depress Democratic turnout when the party desperately needs to energize its supporters for midterm congressional elections.
A majority of Americans do welcome Obama's decision to end combat operations in Iraq. Some 68 percent approve, a number unchanged from earlier this year. The last American combat brigade began leaving Iraq on Thursday, ahead of Obama's Aug. 31 deadline for ending the U.S. combat role there.
Seven years after that conflict began, 65 percent oppose the war in Iraq and just 31 percent favor it.
The growing frustration with the Afghanistan war was evident in Massachusetts' 5th Congressional District, not far from Concord where Minutemen fought for a new nation in 1775. In Lawrence, whose textile mills once relied on the roaring Merrimack River, exasperation with the war in Afghanistan is evident.
"If they could resolve the issue, stabilize the government, that would be good. But we can't do this forever and lose more lives," said Terry Landers, 53, an electrician from North Andover.
U.S. troops have suffered more than 1,100 deaths in Afghanistan since fighting began in October 2001, including a monthly record of 66 in July. Last fall, Obama authorized an increase in the force in Afghanistan by 30,000 to 100,000 troops — triple the level from 2008. Many in Congress are increasingly doubtful that the military effort can succeed without a tough campaign against bribery and graft that have eroded the Afghan people's trust in their government.
Opinions in the poll — and among those interviewed — were more positive about Iraq as Obama's deadline for the exit of U.S. combat forces approached.
"I think we really need to give them an opportunity to economically, socially grow," said Mary Campbell, 56, a Lawrence city worker. "I think it's more helpful if we're not in their face all the time, so the deadline is, I think, a good thing, to see how stable they are."
The congressional seat is held by Rep. Niki Tsongas, a Democrat who is the widow of a former senator and one of the party's 1992 presidential contenders, Paul Tsongas. Four Republicans and one independent are seeking to oust her in November, with the primary next month.
The AP-GfK Poll was conducted August 11-16 by GfK Roper Public Affairs and Corporate Communications. It involved landline and cell phone interviews with 1,007 adults nationwide, and has a margin of sampling error of plus or minus 4.5 percentage points.
Copyright 2018 The Associated Press. All rights reserved. This material may not be published, broadcast, rewritten or redistributed. We strive to uphold our values for every story published.