Patriots 28, Falcons 10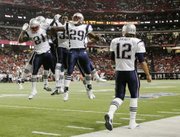 Atlanta — New England's offense looks just fine, especially with Wes Welker back at receiver. The Falcons' defense appears to need more work.
Tom Brady threw for a touchdown, Fred Taylor ran for a score and the Patriots (2-0) cruised past Atlanta in a preseason game Thursday night.
Welker, who had 346 catches over the last three years, played for the first time since tearing up his left knee in January during the regular-season finale. Brady got him involved right away, completing passes of six and 14 yards on the second and third plays against the Falcons (1-1).
Former Kansas University wide receiver Kerry Meier caught one pass for seven yards for Atlanta.
Bills 34, Colts 21
Toronto — It took four plays for rookie first-round draft pick C.J. Spiller to begin delivering on his dynamic billing, as the running back sparked Buffalo in a preseason victory over Indianapolis.
Starting in place of injured veterans Fred Jackson and Marshawn Lynch, Spiller opened the scoring on a powerful 31-yard run 3 minutes in. Drafted ninth overall out of Clemson, Spiller finished with 10 carries on 54 yards.
The Bills offense followed suit. Shaking off an inconsistent debut in last week's 42-17 loss at Washington, quarterback Trent Edwards produced two scoring drives in five series, including a 70-yard touchdown pass to Lee Evans to put Buffalo up, 21-14.
Edwards went 5-for-8 for 93 yards and the Bills (1-1) never trailed against the Colts (0-2).
Copyright 2018 The Associated Press. All rights reserved. This material may not be published, broadcast, rewritten or redistributed. We strive to uphold our values for every story published.