Washington — Layoffs are back, and that's bad news for the fragile economic recovery.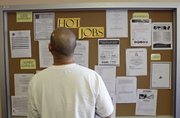 New applications for unemployment benefits hit a nine-month high last week — a spike that suggests private employers may shed jobs this month for the first time this year.
Workers are losing construction jobs in Georgia and manufacturing jobs in Indiana. Some of the layoffs are coming as stimulus money dries up and public works projects come to a halt. Government employees are being let go, too, as states and cities grapple with budget crises.
Without more jobs, consumers will not feel secure enough to spend much money, further slowing the economy. The grim outlook has economists lowering their estimates for growth in the second half of the year. And on Thursday it led to a sell-off on Wall Street led by investors worried that the United States could tumble back into recession.
"Today's news on the economy has been nothing but awful," Paul Ashworth, an economist at Capital Economics, wrote in a note to clients. "The recovery is clearly slowing."
Copyright 2018 The Associated Press. All rights reserved. This material may not be published, broadcast, rewritten or redistributed. We strive to uphold our values for every story published.