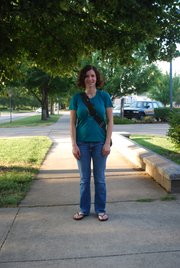 Age: 19.
Sign: Libra.
Occupation: Student, server at Fork & Screen.
Hometown: Olathe.
Time in Lawrence: 2 years.
What were you doing when scouted? Walking with my boyfriend and my dog.
How would you describe your style? Very casual — I dress according to the weather.
What are your favorite fashion trends? Comfort-oriented clothing, jeans and T-shirts.
What are your least favorite fashion trends? Ugg boots and mini-skirts in the wintertime.
What would you like to see more of in Lawrence? More places and apartments that offer recycling services. I always have to drive out to Wal-Mart to recycle my glass.
What would you like to see less of in Lawrence? People being obnoxious and inappropriately loud in public and on the streets.
Do you have any piercings or tattoos? I have my ears gauged.
Do you have any fashion influences? My older sister. We have similar styles and are around each other a lot.
People say I look like: Jennifer Grey, who plays Baby in "Dirty Dancing."
Tell us a secret: I hate sitting in pre-warmed seats. When you sit down, the seat is still warm from the person sitting there last — gross!
Clothing details:
Sandals: Old Navy, June 2010, $1.
Jeans: Levi's, September 2009, $40.
T-Shirt: Dave Matthews Band Concert, October 2009, $30.
Grandmother's Ring: 2005, gift.
Shoulder Bag: KU Bookstore, August 2010, $60.
Copyright 2018 The Lawrence Journal-World. All rights reserved. This material may not be published, broadcast, rewritten or redistributed. We strive to uphold our values for every story published.