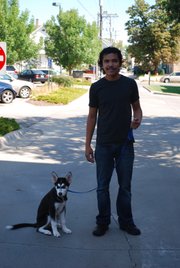 Age: 19.
Sign: Cancer.
Occupation: sales rep/solicitor at C.R.I.
Hometown: Thornton, Colo.
Time in Lawrence: One year.
What were you doing when you were scouted? Walking my dog, Argus, down the Vermont Street alleyway.
How would you describe your style? Laid-back, nothing too flashy — besides my sunglasses and my hair.
What are your current favorite fashion trends? Good suits. I don't wear them very often, but I like it when people wear a perfectly put-together suit. The tie has to be just the right length, and the jacket has to have the right number of buttons.
What are you least favorite fashion trends? Anything over-the-top, where people are just asking for attention. When it comes to fashion, I prefer subtlety.
What would you like to see more of in Lawrence? More accessible dog trails and parks in town.
What would you like to see less of in Lawrence? Less oblivious pedestrians crossing the street — like up on campus, where many students are talking on their phones and just walk right out in front of cars.
Do you have any fashion influences? My girlfriend. She goes shopping with me and helps me pick out clothes to add to my wardrobe.
Do you have any piercings or tattoos? No.
People say I look like: Lionel Richie and John Oates.
Tell us a secret: I get uncomfortable if I leave the house and my clothing doesn't match. Everything has to match head to toe, from my socks to my hats.
Clothing details:
Shoes: Off Broadway, July 2009, $50.
Jeans: Gap, March 2010, $25.
Shirt: Target, April 2010, $10.
Alaskan Malamute: Argus, Craigslist, June 2010, $200.
Copyright 2018 The Lawrence Journal-World. All rights reserved. This material may not be published, broadcast, rewritten or redistributed. We strive to uphold our values for every story published.