Kansas City, Mo. — Bruce Chen was hardly fine. Thanks to the Kansas City hitters, he didn't need to be so sharp.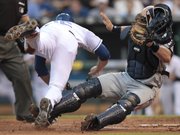 Yuniesky Betancourt homered and drove in three runs, leading Chen and the Royals over the Cleveland Indians, 9-7, Wednesday night.
Betancourt had a two-run single in the fourth inning and hit his 12th homer, which is a career high, in the sixth as the Royals took a 9-4 lead. He has hit .421 with 10 RBIs in his past 11 games.
Mitch Maier hit a two-run triple, and Billy Butler also drove in a pair of runs for Kansas City. Gregor Blanco added two doubles.
It was the Royals' highest-scoring game since a 10-3 victory over St. Louis on June 27.
"Every bit of the order we had offensive production," Royals manager Ned Yost said. "All and up down the lineup it was a good night offensively. Bruce did a pretty good job and got us into the sixth. His command fluctuated a little bit, but he did enough to get the big out when he needed."
Chen (8-6) benefited from the Royals' offensive splurge to win for the third time in four August starts. He gave up four runs on 11 hits in 52⁄3 innings.
"Both teams were swinging the bats real well." Chen said. "I tried to make good pitches and pound the strike zone. Luckily, I was able to minimize the damage so we could win. I was making good pitches when I needed."
Chen went 1-13 with three big-league clubs from 2006-09 and missed the 2008 season after elbow surgery.
"I've gone through a lot of ups and downs," he said. "I've never given up. I feel like I'm having a good year. I like playing this game. I feel like I can keep pitching at this level."
Copyright 2018 The Associated Press. All rights reserved. This material may not be published, broadcast, rewritten or redistributed. We strive to uphold our values for every story published.