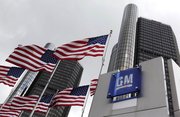 Detroit — General Motors Co. on Wednesday filed the first batch of paperwork required to sell stock to the public, a significant step toward shedding government ownership.
The 700-page filing with regulators begins a process that will lead to an initial public offering of GM's stock. The paperwork laid out reasons why GM would be attractive to investors, as well as the risks the company faces.
GM didn't say how many shares would be sold or when, although experts say the IPO could come as early as October. It also didn't say how many shares GM's majority owner, the U.S. government, plans to sell. Those sales would eventually lead to the government shrinking its big stake in the automaker, something GM is eager to see. The company's outgoing CEO, Ed Whitacre, has said government ownership has hurt GM's public image and sales.
Under the plan filed today, GM said its stakeholders initially will sell common stock, while GM will sell preferred shares, which are like bonds and include dividend payments. GM said it will use proceeds from the preferred stock sale for general corporate purposes. It offered few other details.
GM would have to bring in $70 billion just to pay back all of the automaker's stakeholders. That could come in several sales over months.
The U.S. government now owns about 61 percent of GM, which it got in exchange for giving the company $50 billion in survival aid last year. GM has repaid $6.7 billion, and the remaining $43.3 billion was converted to the ownership stake. Other stakeholders include a United Auto Workers health-care trust and the Canadian government.
Demand for GM's new shares isn't known. In the coming weeks, the company will pitch itself to big investors such as pension, mutual and hedge funds.
Copyright 2018 The Associated Press. All rights reserved. This material may not be published, broadcast, rewritten or redistributed. We strive to uphold our values for every story published.