Photo Gallery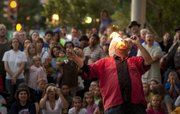 Busker Festival 2009
Lawrence's 2009 Busker Festival was a popular stop for Lawrence residents on Aug. 22, 2009.
El Gleno Grande will be doing a horse act without a horse. Mentoc the Mentalist will bend a spoon with nothing but his mind. And Mama Lou Strongwoman will rip through a phone book before you can tear even a single page.
It must be time for Busker Fest in Downtown Lawrence.
Street performers will take over many of downtown's corners from Friday through Sunday for the third annual festival.
"People can expect some pretty unusual things going on all the time," said Richard Renner, a Lawrence resident and vaudeville performer who organizes the event.
Expected performers include fire dancing, juggling, sword swallowing, magic, fire eating, musicians, hula hoop dancers, and chalk artists.
Renner anticipates at least 30 performers for the festival, up from about 25 last year. He said inquires from the public about the show also are on the rise.
"I think it is definitely adding to the culture of downtown and to the image that Lawrence is a unique place," Renner said. "In essence, there are really only three or four organized busker festivals in the U.S., so this really adds to the idea that Lawrence is unique on a national scale."
Buskers will perform from about 5:45 p.m. to 10:30 p.m. on Friday and from about noon to 10:30 p.m. on Saturday. Locations will be throughout the downtown, but stages will be at Ninth and New Hampshire, the breezeway in the 700 block of Massachusetts Street, along Eighth Street, at the Lawrence Arts Center, and at the Lawrence Public Library.
On Sunday, Buskers will perform from noon to 4 p.m. in South Park in conjunction with the Kansas State Fiddling and Picking Championships.
There's no admission charged to attend the event, but buskers do expect audience members to make a donation following each show.
A full schedule for the festival can be found at www.lawrencebuskerfest.com.
Copyright 2018 The Lawrence Journal-World. All rights reserved. This material may not be published, broadcast, rewritten or redistributed. We strive to uphold our values for every story published.