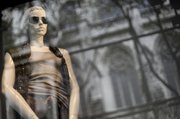 New York — A dollar for a 40-ounce bottle of ketchup? Yawn. Four bucks for a 12-pack of Coke? No sale.
Even deep discounts on everyday items don't seem to be enough to get Walmart shoppers to bite these days, and other chains are worried Americans won't be in the mood to spend in the months ahead, which are critical for those companies.
On Tuesday, quarterly financial results from retailers including Home Depot and Abercrombie & Fitch showed that profits are rising because retailers are cutting costs and keeping their inventories lean.
But with the economy slowing once again and consumer confidence falling, they expect less out of the rest of the year, and they already have to push harder to get shoppers to buy.
Walmart hopes basics like underwear and socks will bring in financially strapped shoppers. It's also stocking smaller packages for the days leading up to when customers receive their government assistance checks, and need to stretch their last few dollars.
At Home Depot Inc., sales are being driven by small repair projects, not big renovations, and weak spending has caused it to cut revenue forecasts for the year.
High-end Saks, where even wealthy customers are scrutinizing price tags, is pushing shoes and handbags as a way to update customers' wardrobes without having to buy an entire outfit.
Copyright 2018 The Associated Press. All rights reserved. This material may not be published, broadcast, rewritten or redistributed. We strive to uphold our values for every story published.