St Joseph, Mo. — He's the first man in NFL history to rush for more than 1,100 yards in fewer than 200 carries and the first Kansas City Chief with four touchdown runs of 40 yards or more.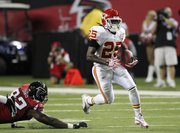 Jamaal Charles is also on the second team.
So do the Chiefs have the deepest stable of quality running backs in the league? Not exactly, though newcomer Thomas Jones does have five straight 1,000-yard seasons and a wonderful gift for leadership.
But the Chiefs' apparent indecisiveness over how to play their pair of aces probably has more to do with strategy and secrecy than coaches' confusion.
For his part, Charles is taking a wait-and-see approach, insisting he's going to be a good teammate and try to hit whatever pitch life throws.
"Whatever happens, happens for a reason," Charles said. "I always believed in that. If it happens for a reason, I guess I've got to go with it. I can't do nothing about it."
Charles was left out of much of the offseason work because of shoulder surgery he underwent right after finishing the season with 2,342 combined net yards. He says he's 100 percent, and looked that way last week in the first preseason game.
On a night in Atlanta when most of the offense appeared sluggish and out of synch, Charles rushed for 37 yards on only four carries. The 23-year-old Texan looked just as quick as last year, when world-class speed helped carry him to 1,120 yards rushing after trouble-making former Pro Bowler Larry Johnson was traded.
But possibly out of concern for Charles' shoulder, the Chiefs signed the highly respected Jones to a free agent contract, importing an 11-year veteran with less speed but more experience and terrific leadership skills. Most days, Jones has been running with the first team.
"Thomas has the best locker room presence I've ever seen in a player," said backup running back Jackie Battle.
Last year with the New York Jets, Jones finished third in the NFL with 1,402 yards, trailing only Chris Johnson and Steven Jackson.
So will they be a one-two punch? Or will one take over as undisputed No. 1 while the other sits on the bench?
Exactly what the Chiefs have in mind is something fans and onlookers have been puzzling over for months. As training camp progresses, the mystery seems only to deepen — at least to everyone but Charles and Jones.
"They both understand what's going on," Haley said.
Haley and general manager Scott Pioli, constantly casting nervous glances for any eavesdropping rivals, are top drawer at holding their cards close to the vest.
"On good teams, players understand their role," Haley said. "That sounds simple, but a lot of times people don't understand their role. So part of our job as coaches, and that's in that mix, the communication that's going on is players understanding their role in the team."
So what is Charles' role?
"That's still to be determined," Haley said. "As is the case with the majority of the guys. That's what I mean by 'get it.' There are more and more guys who are starting to get it and understand what's going on and what we're trying to do."
With Jones and Charles, the Chiefs will go into the season with two running backs coming off 1,000-yard campaigns for the first time since Lamar Hunt founded the team in 1959.
"Jamaal is a developing player. Jamaal is a player that last year at times in that development had good days, bad days and in-between days — like a lot of other guys," Haley said. "That is part of the development, and that's part of becoming a dependable player on a daily basis, and that's really what we're trying to get down with the entire unit."
Copyright 2018 The Associated Press. All rights reserved. This material may not be published, broadcast, rewritten or redistributed. We strive to uphold our values for every story published.