Bobby Thomson, whose "Shot Heard 'Round the World" at the dramatic climax of the 1951 season still is arguably the most famous home run in baseball history, died Monday night in Savannah, Ga. He was 86.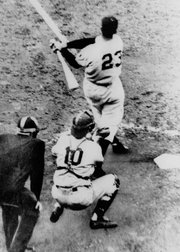 Thomson, born in Glasgow, Scotland, and raised on Staten Island, became an icon when his home run ended a three-game playoff for his New York Giants against their bitter rivals, the Brooklyn Dodgers. The three-run shot against pitcher Ralph Branca at the Polo Grounds was immortalized by the radio call of broadcaster Russ Hodges, who yelled into the microphone — and into history — "The Giants win the pennant! The Giants win the pennant! The Giants win the pennant!"
It capped a stunning late-season comeback by the Giants, who had seemed to be way out of the pennant race. The game-ending hit retained its place in American culture even after the Giants lost the World Series that year to the Yankees.
Baseball
Mets withhold K-Rod's salary
Houston — The New York Mets are withholding injured closer Francisco Rodriguez's salary while he's sidelined, and the team wants to convert his contract to a non-guaranteed deal.
The moves could be a prelude to the Mets releasing the star closer without paying most of his 2011 salary.
Rodriguez was placed on the disqualified list Tuesday, six days after he tore a ligament in the thumb of his pitching hand while punching his girlfriend's father outside a family lounge at Citi Field. Rodriguez had surgery Tuesday to repair the self-inflicted injury and is expected to miss the rest of the season.
Tennis
Jankovic ousted at Rogers Cup
Montreal — Top-seeded Jelena Jankovic of Serbia lost her second-round matchup with qualifier Iveta Benesova of the Czech Republic 7-6 (3), 6-3 on Tuesday night.
Jankovic, the world's third-ranked player, has never won a tournament in Canada, and that drought will continue at least another year.
Men's college basketball
Buckeye to stay in Greece as pro
Columbus, Ohio — Junior center Zisis Sarikopoulos (ZIZ-iss, SAYR-uh-COHP-ul-liss) will not return to Ohio State, electing to remain in his native Greece and play professionally.
The 7-foot Sarikopoulos played one season for the Buckeyes after transferring from Alabama-Birmingham following the 2007-08 season.
Soccer
Several French players suspended
Paris — The French soccer federation suspended four players, including Nicolas Anelka for 18 games, for a World Cup mutiny that was criticized by President Nicolas Sarkozy and underlined an embarrassing first-round exit.
The French Football Federation on Tuesday also suspended former captain Patrice Evra (five games), Franck Ribery (three games) and Jeremy Toulalan (one game). Eric Abidal, the fifth player at the four-hour hearing, escaped punishment.
All 23 players on France's World Cup squad boycotted a training session in South Africa to protest Anelka's expulsion after he insulted then-coach Raymond Domenech during a 2-0 loss to Mexico.
College football
Vols don't want to play UNC
Knoxville, Tenn. — Tennessee wants to eliminate a trip to North Carolina from its 2011 football schedule, even if it means paying a $750,000 buyout of a contract with the Tar Heels.
"Going into the season having two BCS non-conference opponents is problematic when you're trying to rebuild a team," Tennesse athletic director Mike Hamilton said.
NFL
Chiefs sign rookie free agent QB
St. Joseph, Mo. — The Kansas City Chiefs signed free agent quarterback Bill Stull on Tuesday and waived defensive end Jeffrey Fitzgerald.
Stull started 13 games at the University of Pittsburgh as a senior and hit 209 of 321 passes for 2,633 yards and 21 touchdowns.
Stull was signed one day after No. 2 quarterback Brodie Croyle sat out practice with an undisclosed injury.
Browns lose punter for season
Berea, Ohio — Cleveland Browns punter Dave Zastudil is out for the season because of a right knee injury.
Coach Eric Mangini said Zastudil's surgically repaired knee was not responding, so the team decided to place him on injured reserve, ending his season before it started. Zastudil missed eight games last season with a torn patellar tendon in his plant leg.
Saints sign RB Betts to 1-year deal
New Orleans — The New Orleans Saints made a move to strengthen their running back depth when they signed former Redskin Ladell Betts to a one-year contract Tuesday.
Bengals' Maualuga docked 2 games
Cincinnati — Bengals linebacker Rey Maualuga was fined two game checks by the NFL on Tuesday and forfeited a two-week share of his signing bonus for a drunken driving conviction.
Copyright 2018 The Associated Press. All rights reserved. This material may not be published, broadcast, rewritten or redistributed. We strive to uphold our values for every story published.