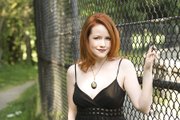 Richelle Mead doesn't think she is much like Rose Hathaway, the tough, sarcastic 17-year-old heroine of "Vampire Academy."
"I've certainly never been in a fight," says the 33-year-old author of the popular book series, describing herself as a cautious person who hesitates before jumping to conclusions.
But Mead didn't have any doubts about creating a strong character like Rose.
"There was never any question that was how she was going to be," she says. "I'm so surprised when people bring that up. 'Wow, Rose is so strong.' 'Wow, a strong female character."'
Mead, who's originally from Kalamazoo and now lives in Seattle, isn't as famous as Stephenie Meyer, who wrote the "Twilight" series. But in the world of books for teens, her success is apparent.
"Richelle Mead's 'Vampire Academy' is the obvious heir to the 'Twilight' throne," declared the Daily Beast Web site last year.
The "Vampire Academy" series, published by Razorbill, an imprint of Penguin Young Readers Group, has more than 3.5 million books in print and has been translated into about 30 languages.
The fifth book in the series, "Spirit Bound," debuted in May at No. 1 on the USA Today list of the top 150 best-sellers and pushed the series to the top of The New York Times best-seller list of series for children.
The conclusion to the series, "Last Sacrifice," is scheduled to hit stores in December. Mead is planning to write a spin-off set in the same world as the "Vampire Academy" series, only it will give minor characters the major roles and weave a new story line.
A graphic-novel version of "Vampire Academy" is coming out in August 2011.
From the "Twilight" movies and HBO's "True Blood" to the CW's "The Vampire Diaries," vampires are a hit in Hollywood — the place that could be the next stop for "Vampire Academy."
Producer Michael Preger of Preger Entertainment is working with Don Murphy, a producer of the "Transformers" films and the upcoming "Real Steel," to develop "Vampire Academy" for the screen.
According to Preger, they're talking to studios about the project and looking to create a film franchise that is popular with young male moviegoers as well as female fans.
"We're not just going for a movie," he says. "We're hoping for a series of films."
Mead, who met with Preger and Murphy during the recent Comic-Con event in San Diego, says she's not presuming anything yet.
"I'm hopeful. I've met the guys. They're great. They love the books. But for me, it's very easy to put this on the back burner. The options are sold, but it's not something I'm thinking about most of the time. My focus is the books, because that's what I do."
Fangs and romance
In "Vampire Academy," which came out in 2007, a boarding school in Montana called St. Vladimir's Academy is home to Rose, a half-human, half-vampire dhampir who is studying to be a bodyguard. Rose may have a rebellious streak, but she is dedicated to protecting her friend, royal princess Lissa Dragomir, a mortal Moroi vampire who, like other Moroi, is threatened by the evil, immortal Strigoi vampires.
And while there's no Edward and Bella of "Twilight" fame here, the first book does deal with Rose's growing feelings for her handsome teacher, Dimitri — a romantic story arc that continues through the other books in the series.
The description of Mead on the book jacket of "Spirit Bound" says she enjoys "bad reality TV, traveling, trying interesting cocktails and shopping for dresses to wear on tour." But she is serious and thoughtful when talking about her books for young adults.
Growing up in Kalamazoo, Mead read a lot of books and was always interested in writing. She recalls writing picture books when she was very young and, later on, short stories.
Vampires weren't big on her radar then. "My high school years were during the Anne Rice craze, and I never read one of them," she recalls.
No talking down
Mead currently has three separate book series. In addition to the "Vampire Academy" series, she writes two paranormal-themed series for another publisher. They're written for adults and have some racy sex scenes.
She says using a pen name for her young adult books "was certainly a consideration," but she doesn't think writing such different series is a big issue. "A lot of teens have no idea I even write adult stuff, because they're very honed in to the YA section (of bookstores) and obviously my adult books aren't shelved there. If they do find them, again, I'm not concerned particularly. They'll make their own decisions. Certainly when I was a teen, I was reading romance novels, so it doesn't bother me so much."
Mead and her editors work to make sure that the content of "Vampire Academy" is appropriate for young adult readers. But she says she learned from teaching high school that teens aren't necessarily sheltered from reality.
"The one thing I did decide going in, in writing this young adult series, was I wasn't going to talk down to my readers or try to live in a true fantasy world where teens don't talk about sex and don't swear," she says.
Vampire community
Mead had written and sold the first novels of her adult series when she began working on the book that would lead to the "Vampire Academy" series.
At the time, she considered it a side project. And she wasn't aware of "Twilight," the 2005 book that launched the boom in vampire books for teens.
"'Twilight' was not the phenom it is now. I had never even heard of it when I wrote this," she says.
Mead had taken a class at the University of Michigan on eastern European mythology and folklore that delved into vampires. "The most contemporary thing we read was Bram Stoker," she says, referring to the classic "Dracula" novel. "The rest of it was all symbolism about life and death and how you coped with that in the Dark Ages, so it was a very different sort of study of vampires."
Recalling old myths about vampires from the class, she browsed around and found a snippet of a story about two sorts of vampires that helped inspire the warring world of "Vampire Academy."
"Vampire Academy" was among the titles on the 2008 Teens' Top Ten List, a teen's choice award conducted by the Young Adult Library Services Association, a division of the American Library Association. It also was included in that group's 2008 and 2009 "Quick Picks for Reluctant Young Adult Readers."
The mega-success of "Twilight" has fueled interest in several vampire-themed series for young adults. Other books in the genre include the series "House of Night" and "Blue Bloods."
It's a friendly community among the writers, according to Mead, who no longer teaches and devotes her time to writing.
"Writing is a solitary job and it's actually just so great to meet people who know exactly what you're talking about with copy edits and touring. You suddenly feel like, hey, I work in an office, because here are my co-workers."
Copyright 2018 The Lawrence Journal-World. All rights reserved. This material may not be published, broadcast, rewritten or redistributed. We strive to uphold our values for every story published.