Milwaukee — Flying thousands of miles to reap millions of dollars, President Barack Obama is dashing across the country to help his party retain power, essentially offering one familiar argument: Republicans don't solve problems.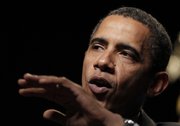 "Don't give in to fear," Obama said Monday in his latest ominous vision of a country led by the opposition party. "Let's reach for hope."
Obama has settled on his message for the pivotal midterm elections, which means what he said Monday in Milwaukee will sound like what he says today in Seattle and Wednesday in Miami. He is covering more than 8,000 freewheeling miles in three days, the kind of personal attention that gets donors to the door.
This week offers not just a window for Obama to campaign — Congress is gone, his summer vacation awaits — but also a window into his thinking about the fall campaign. Despite deep voter impatience over the sickly economy, the White House is betting people will stick with Democrats if the choice is framed as one between those who act and those who obstruct.
On Monday, he warned of reliving a dreadful past, saying Republicans want voters "to be afraid of the future."
"The worst thing we could do is to go back to the very same policies that created this mess in the first place," Obama said at a fundraiser in Wisconsin. "In November, you're going to have that choice."
Obama has advanced all the big parts of his agenda — the massive stimulus spending bill, health care reform, the rewriting of rules for Wall Street — with little or no Republican support. Republicans counter that the president's policies have come at a huge cost to taxpayers far into the future without the payoff many voters want most: jobs.
Obama's campaign speech is filled with lines he has used for weeks. As intended, they usually yield fresh laughs and applause from local, friendly audiences who have never had occasion to hear them before. Like his metaphor about Republicans and driving: put the car in "D" (as in Democrat) if you want to move ahead, "R" if you want to go backward.
As leader of the Democratic Party, even with diminished appeal, Obama has a political job description that demands he help elect lawmakers and state executives who support his agenda. He needs them, too.
In Milwaukee, Obama spoke at a basketball arena to raise money for the state Democratic Party and for Tom Barrett, the city mayor who is running for governor in a competitive race. Campaign officials refused to say how much Obama raised. Lunch tickets cost $250, but getting a photo with the president could be had for $10,000 donation.
By evening, Obama was in Los Angeles for a glitzy fundraiser expected to raise $1 million for Democratic congressional candidates.
Copyright 2018 The Associated Press. All rights reserved. This material may not be published, broadcast, rewritten or redistributed. We strive to uphold our values for every story published.