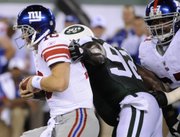 East Rutherford, N.J. — Eli Manning's head was dripping blood, an unsettling sight for the New York Giants and their franchise quarterback.
Manning was forced out of the Giants' 31-16 victory over the Jets after suffering a three-inch gash to the left side of his forehead early in the second quarter Monday night.
"Initially, we were all concerned and scared," Giants center Shaun O'Hara said. "When you see a quarterback bleeding like that, it was something out of a 'Friday The 13th' movie."
It turned out to be only a really gruesome cut that took 12 stitches to close. Manning had X-rays taken and showed no sign of concussion after being hurt with 10:45 left in the first half.
"It's really not an injury," he said. "Nothing serious. I really feel like I could go back out and play right now if I had to."
There was no need for that because his replacement, Jim Sorgi, got the Giants' offense moving enough against the Jets' backup defense.
"As happy as I was with the way our ones played, I was totally disappointed with the way our twos played," Jets coach Rex Ryan said. "We got whipped by them."
Mark Sanchez led the Jets on three scoring drives, overcoming an interception on his first pass, while playing the entire first half in the first football game played at the New Meadowlands Stadium.
"Based on the way we moved the ball up and down the field, aside from the interception on the first pass," Sanchez said, "I was happy with my performance."
The teams traditionally meet in the third game of the preseason, but both wanted to be part of the unveiling of their new $1.6 billion, 82,500-seat home.
The big night ended early for Manning, who was hurt when running back Brandon Jacobs rumbled up the middle and smacked into him with his shoulder on a fake handoff.
After losing the ball, Manning tried to grab it, but was smacked in the middle of his back by Calvin Pace. Manning's helmet was knocked off, pushing him forward, face-first. Manning's head plowed into either Jets safety Jim Leonhard or Jacobs, and the quarterback quickly called for the training staff, his hand covered in blood.
"I looked up at the (videoboard) and saw his helmet came off, and Jim was coming, and then he was bleeding," Pace said. "We were just kind of playing football."
Copyright 2017 The Associated Press. All rights reserved. This material may not be published, broadcast, rewritten or redistributed. We strive to uphold our values for every story published.