It's a Monday, and Kansas University sophomore Kale Pick is answering questions — for what has to be the 500th time — about the quarterback battle between him and red-shirt freshman Jordan Webb.
By now, Pick, an inexperienced college player, is an old pro at delivering lines about the QB competition. Phrases such as, "I'm a competitor," and, "We're making each other better every day," flow effortlessly out of Pick's mouth. But every once in a while, those same old sentences are interrupted by his thoughts on a completely different topic — one that seems to come up more often as each day passes.
"You guys will see in time he's a heck of a deep-ball guy," Pick once said of red-shirt freshman Christian Matthews. "He goes and gets the ball and has a heck of a lot of athletic ability."
Pick squirms as he says the words, but not in the way someone bending the truth might, more in the way an older brother would brag about his younger, talented sibling.
"(His) hand-eye coordination is really good," Pick continues. "Being a quarterback in his past, he knows where to go, and he knows what a quarterback thinks, when to settle down and keep moving in his route. He's really quick, and he runs good routes. I'm excited for him. I can't wait 'til he gets more experience."
Asked if the description reminded him of anyone in particular, say a certain former KU teammate whose jersey number also began with the numeral 1, and Pick was quick to draw the comparison between Matthews, who wears No. 12, and KU great Kerry Meier.
"Yep, sounds real familiar," Pick said. "Christian has the same mentality as Kerry. He works hard. He and I threw a lot of balls this summer, and he just thinks like a quarterback. It's familiar, just like No. 10 (Meier)."
Matthews, a 6-foot-1, 186-pound red-shirt freshman from Arlington, Texas, can't help but see the comparison himself. And he likes it. After all, Meier is the classic example of a guy who made good on a bad situation, so much that it led to him becoming a fifth-round pick in the NFL Draft by the Atlanta Falcons.
Though there's still a long way to go before Matthews can entertain those thoughts, he spends most of his days on the practice fields trying to mimic what he saw from Meier.
"I learned a lot from Kerry," Matthews said. "The route running. You watch him, you can't do anything but get better. I also learned that you gotta work to be a college football player. That's all he did was work hard. Hopefully, I can just get out there and show what I can do on the field. It's quite a transition from quarterback to receiver, and I'm just doing the best I can."
For Matthews, the transition began, in part, during his red-shirt season in 2009. Until that point, he had never played a position other than quarterback. He spent most of 2009 working as the Jayhawks' scout team QB and occasionally hustled his way over to work with the wide receivers.
At that point, Matthews had no idea what the future held. With three-year starter Todd Reesing on his way out, Matthews assumed he would have a chance to compete for the starting job. He got that this spring — along with five other KU QBs — but continued to impress so much at wide receiver that the coaching staff penciled him into the depth chart at receiver — second string after 15 practices.
Perhaps the key moment in the transformation came when Matthews caught the game-winning touchdown during KU's spring game. After blazing down the field and using his athletic ability and vision to come back to the ball, Matthews hauled in a 37-yard TD strike from Pick. It was his only catch of that game, but it stuck in the minds of so many.
Saturday, during the Jayhawks' latest intra-squad scrimmage, Matthews picked up where he left off. Although he did drop a 50-yard pass in the end zone, Matthews made a few nice grabs and showed that his raw speed and shifty moves can both get him open and make things happen after the catch. All this, while still being dubbed a work in progress.
"I don't think I'll feel completely comfortable until I get to that first game," Matthews said. "And after that, hopefully it'll be easier."
Matthews says his speed is one of his biggest assets as a receiver. He used it often to complete 516 of 829 passes (62 percent) for 52 touchdowns during a standout high school career. Those days, Matthews fancied himself a Randall Cunningham clone, a dual-threat quarterback with dazzling athletic ability who had a chance to put up points on every play.
Now, he sees himself in the same way but must rely on someone else to get the ball into his hands.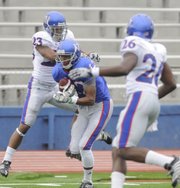 Of course, there is one scenario in which Matthews might not have to make a catch to get the ball. Offensive coordinator Chuck Long said recently that the Jayhawks might have a package with Matthews at quarterback, KU's answer to the popular Wildcat offense that has taken pro football by storm in recent years.
Long said last week that the staff had not yet installed that part of the offense, but that it likely would happen before the end of preseason camp.
"We're not there yet. We're still working him at that receiver spot. We want him to settle in at receiver, and then we'll look at that," Long said.
As for the specifics of the package, Long said it's similar to the Wildcat with a few wrinkles.
"It's a change-up," Long said. "We'll name it once we figure out if that's going to be good for us, and we'll leave it up to the guys to give it a good name."
Matthews said he was in the dark about the whole deal but lit up at the prospect of playing QB again, even if only for a few snaps.
"They haven't told us much," he said. "They've told us about it, but that's about it. We'll see, but it helps a lot to know that I could still get the ball in my hands and do stuff with it."
Copyright 2018 The Lawrence Journal-World. All rights reserved. This material may not be published, broadcast, rewritten or redistributed. We strive to uphold our values for every story published.