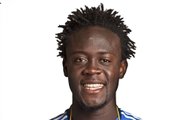 Children in Sierra Leone soon will be receiving soccer balls, jerseys, shorts and T-shirts — all thanks to a Lawrence girl with a warm heart, and an assist from a professional soccer star who knows plenty about the living conditions in the African nation.
Laurel Nagengast, a senior at Lawrence High School, will be collecting new and gently used balls and athletic apparel from 5:30 p.m. to 7 p.m. Wednesday in the north parking lot at the school, 1901 La.
"Soccer means a lot to me," Laurel said. "I just decided it would be a good thing to do for some kids over there who love soccer so much."
She will be joined by Kei Kamara, the leading scorer for the Kansas City Wizards and himself a native of Sierra Leone, who plans to contribute items to the cause. Kamara also will be available to meet with fans.
Laurel, herself a former soccer player at LHS, got the idea while watching World Cup games with her father, who had served with the Peace Corps in Sierra Leone back in 1978 and 1979. The country served as the setting for the story in "Blood Diamond," a 2006 film chronicling the commerce of conflict diamonds amid rampant chaos, corruption and civil war.
"Every kid in Lawrence and every family in Lawrence has dressers full of soccer jerseys," said Dan Nagengast, who still keeps in touch with people in Sierra Leone through a ListServ. "We figured this would be a good way to get them over there."
Laurel plans to collect only jerseys, soccer shirts, shorts and balls. The items will be sent overseas in barrels.
Dan Nagengast, who is executive director of the Kansas Rural Center, said that while the soccer effort was not considered an official nonprofit organization, monetary donations would be accepted to help defray shipping costs.
Copyright 2018 The Lawrence Journal-World. All rights reserved. This material may not be published, broadcast, rewritten or redistributed. We strive to uphold our values for every story published.