Laredo, Texas — Jose Canseco has signed a contract with an independent minor-league team in south Texas.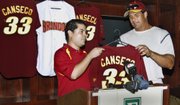 The 46-year-old Canseco, a central figure in baseball's steroid era, was introduced Monday as a member of the Laredo Broncos — one of six teams in the United Baseball League.
Canseco says he'll play designated hitter, serve as a bench coach and pitch for the team. He'll play in Laredo's remaining six home games this season.
The former slugger named names and detailed steroid use around major-league baseball in two memoirs. In one, he admitted using steroids and claimed that up to 85 percent of players also did.
Canseco hit 462 home runs in 17 major-league seasons.
Baseball
Nationals, top pick agree
Washington — Top overall draft pick Bryce Harper and the Washington Nationals reached an agreement on a $9.9 million, five-year contract shortly before the deadline of midnight EDT Monday night.
A year ago, the Nationals agreed to a record-breaking $15.1 million, four-year contract with No. 1 draft choice Stephen Strasburg a little more than a minute before the clock ran out.
The 6-foot-3, 205-pound Harper is a 17-year-old power-hitting junior college catcher the Nationals plan to convert to an outfielder. He's the first juco player taken with the first overall selection.
He gets a $6.25 million signing bonus in five equal payments of $1.25 million: 30 days after approval and each July 1 from 2011 through 2014.
Harper receives salaries of $500,000 each in 2011 and 2012, $750,000 in 2013, $900,000 in 2014 and $1 million in 2015.
Injured K-Rod done for year
Houston— Mets closer Francisco Rodriguez has a torn thumb ligament in his pitching hand sustained during a fight with his girlfriend's father at Citi Field and will need surgery that will sideline him for the rest of the season. The Mets announced the injury before Monday night's game at Houston. They said the reliever didn't travel to Texas with the team.
Former Pirates GM dies at 91
Pittsburgh — Joe L. Brown, the general manager whose shrewd trading and expert rebuilding of the Pittsburgh Pirates' farm system resulted in two World Series championships, died after an extended illness. He was 91.
NBA
Stephenson incident detailed
New York — Indiana Pacers draft pick Lance Stephenson, after pushing his girlfriend down a flight of stairs, grabbed her and hit her head on the bottom step, prosecutors said Monday.
A judge released Stephenson, 19, without bail late Sunday night after his arrest on assault, menacing and harassment charges. Prosecutors had asked for $7,500 bail.
In a lengthy statement issued Monday, Pacers president Larry Bird called Stephenson's arrest "very disappointing to the Pacers franchise and to me personally."
A defense attorney said Stephenson didn't harm his girlfriend.
Authorities say the confrontation occurred around 5 a.m. Sunday when the woman, Jasmine Williams, was returning home to her apartment building with two friends. Witnesses said Stephenson was waiting for her and yelled, "Are you kidding me?" before pushing her down the stairs.
Haslem sure he'll be cleared
Miami — Udonis Haslem of the Miami Heat released a statement Monday night expressing confidence that he'll be vindicated, one day after he was charged with possession of marijuana following a traffic stop.
McGrady happy to join Pistons
Auburn Hills, Mich. — Tracy McGrady doesn't see himself as an old, broken-down basketball player. He's hoping that his free-agent deal with the Detroit Pistons will help him prove that to the NBA.
"It's not like I'm 41 or even 35," McGrady said after signing a one-year, $1.3 million contract Monday. "I just turned 31. No one has come down and stolen away my talent — I still have a lot in the tank."
Cavaliers sign forward Samuels
Cleveland — The Cleveland Cavaliers have signed free-agent forward Samardo Samuels, who left Louisville after his sophomore season.
College football
Leach gets television gig
New York — Former Texas Tech football coach Mike Leach will call games on television as he pursues a lawsuit over his firing from the school. Cable network CBS College Sports announced Monday that Leach will work as an analyst this season.
Safety to transfer from UF
Gainesville, Fla. — Florida safety Jordan Haden, the younger brother of Cleveland Browns rookie cornerback Joe Haden, has left the team and intends to transfer.
Golf
Pavin still high on Tiger
Milwaukee — Tiger Woods remained No. 1 in the world ranking Monday, though not even close to that on two lists — the Ryder Cup and FedEx Cup — that mean much more these days.
Woods failed to qualify for the Ryder Cup for the first time — he had led the standings every other time since 1997 — and now must rely on U.S. captain Corey Pavin spending one of four wild-card picks on him.
Pavin would only say that Woods is "high on my list" and will be a "big consideration" when he announces his selections Sept. 7.
Copyright 2018 The Associated Press. All rights reserved. This material may not be published, broadcast, rewritten or redistributed. We strive to uphold our values for every story published.