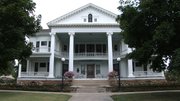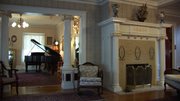 Persistence paid off for Terry Tietjens. As a visiting college student, he was fascinated by the stately Georgian architecture of the Seelye mansion on Buckeye Street in Abilene. Returning many times over the next 11 years, Tietjens befriended the elderly spinster Seelye sisters who lived there and were, with their parents, the home's original residents. Eventually convincing the sisters of the sincerity of his intentions and his love of history, he purchased the home in 1982, allowing Helen and Marion Seelye to live out the rest of their lives in their childhood home.
"We have history today because somebody saved it. Preserving history is important for future generations. That's what I hope people take away when they visit the Seelye mansion," Tietjens says.
Listed on the National Register of Historic Places and noted as one of the eight wonders of Kansas architecture, the 25-room mansion was built in 1905 for Dr. A.B. Seelye, a patent medicine entrepreneur, and is open for public tours that any visitor to Abilene should not miss.
The "wow" factor is the extensive collection of original home and personal furnishings. Breathtaking Edison light fixtures, a Steinway grand piano, a first edition book collection signed by Mark Twain and a Tiffany-designed tiled fireplace are among the treasures. An extravagant array of Haviland and Limoges china, crystal and other collectibles convey opulence uncommon to the area in that era.
The home includes a third-floor ballroom that regularly entertained WWII GIs, a basement bowling alley, a working Edison phonograph and, fortunately for most visitors, a lively and informative tour guide named Dorothy.
"Home and Away" premieres at 6:30 p.m. Mondays on Sunflower Broadband channel 6 and replays throughout the week.
Copyright 2018 The Lawrence Journal-World. All rights reserved. This material may not be published, broadcast, rewritten or redistributed. We strive to uphold our values for every story published.