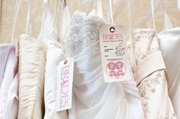 Nationwide tour of gowns
What: Bridal gown sale benefiting Making Memories Breast Cancer Foundation
When: VIP night ($25 bride admission, $15 guests) 6 p.m.-10 p.m. Thursday; general sale (free admission) 10 a.m.-8 p.m. Friday, 10 a.m.-6 p.m. Saturday
Where: Evergreen Events, 15 W. Wea St., Paola
With couture dresses from designers like Vera Wang going for 75 percent off, the Brides Against Cancer wedding gown sale could start a stampede like the famous "Running of the Brides" sale at Filene's Basement.
"No, it's not like that," says Brenda Chovanak, tour director for the Nationwide Tour of Gowns, coming to the greater Kansas City area next weekend.
"Most of the people who come to our events have their hearts and heads in the right place. So, we just don't see that, although the prices are really great and the selection is amazing."
Almost 1,000 wedding dresses, donated by bridal shops, manufacturers, designers and former brides, will be offered for sale at deep discounts Friday and Saturday at Evergreen Events in Paola.
"A lot of the gowns are brand new, with tags on them and everything," Chovanak says. "We've got sizes from 4 to 24. They're some of the most beautiful gowns I've ever seen, and I've been involved since 2004."
The Brides Against Cancer program was founded in the late 1990s by mother/daughter team Fran Hansen and Anna Orr, when Hansen received two false positive test results after finding a suspicious lump in her breast.
Though she had dodged a bullet, Hansen was moved by her experience to form Making Memories, an organization that grants wishes to people with stage 4 breast cancer. And because she owned a small chain of bridal shops, a fundraising idea was born. Brides Against Cancer sales are held all over the country, staffed by volunteers, with proceeds going toward helping terminally ill cancer patients make lasting memories.
"Most of our wish recipients have small children," Chovanak says, "so we get lots of requests for trips to Disneyland or Disney World, because they don't want the kids to just remember mom or dad as being sick. That, and swimming with the dolphins, are probably our most popular requests. We just did one in the last month for a woman who was terminally ill with breast cancer. She was carrying her laundry to the laundry mat, and all she wanted was a washing machine. That was easy for us to do."
The organization is always looking for deserving individuals in the Lawrence and Kansas City areas who have a wish.
"They can visit our website in the privacy of their own home and read about how they can request a wish," Chovanak says. "Right now, there are a dozen of them that we are currently processing. But, there's another 50 that I know of that, we're just waiting for them to send back the wish packet so we know what their wish is."
Gowns range in price from $199 to $799 and up, generally 35-75 percent below retail price.
"There are even some Vera Wang dresses this time, which retail between $3,000 and $5,000. And we've got them right around a thousand dollars," Chovanak says.
And, that kind of price-chopping doesn't cause brides to get just a tiny bit aggressive?
"No," Chovanak laughs. "What I tell the brides is, it's supposed to be fun. You're doing a good thing. You're helping grant a wish. Knocking people down and elbowing them, that's not fun."
Copyright 2018 The Lawrence Journal-World. All rights reserved. This material may not be published, broadcast, rewritten or redistributed. We strive to uphold our values for every story published.