Photo Gallery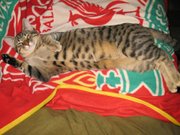 Pet Post: 2010
An estimated 500,000 pets are affected annually by home fires; however, nearly 1,000 house fires each year are accidentally started by the homeowners' pets, according to a new data analysis by the National Fire Protection Association. To educate pet owners on how to prevent their pets from starting fires, as well as keep them safe, the American Kennel Club and ADT Security Services have joined forces to provide the following tips.
• Extinguish open flames — Pets are generally curious and will investigate cooking appliances, candles or even a fire in your fireplace.
• Remove stove knobs — Be sure to remove stove knobs or protect them with covers.
• Invest in flameless candles These candles contain a light bulb rather than an open flame, and they take the danger out of your pet knocking over a candle.
Copyright 2018 The Lawrence Journal-World. All rights reserved. This material may not be published, broadcast, rewritten or redistributed. We strive to uphold our values for every story published.