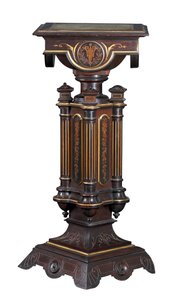 Statues and plants were important decorations in the large Victorian home. The designers of the day believed in filling all available space. Pedestals made of wood or ceramics were put in halls and in corners of living rooms and dining rooms. Live plants, especially ferns, were popular. Pedestals were often colorful and covered with decorations. Art pottery companies like Roseville and Rookwood made pedestals in their early years. The majolica potteries of England and Germany made elaborate pedestals with 3-D decorations of animals and birds. A few furniture firms made wooden pedestals. One of the most famous 19th-century decorating firms in New York City was Herter Brothers. It made furniture for the rich and famous, including President Ulysses S. Grant (for the White House) and William Vanderbilt. Herter furniture was made in a variety of styles, from Victorian to Japonisme. Today Victorian pedestals are difficult to find but sell for moderate prices. Pedestals by well-known makers, however, bring high prices. A Herter Brothers pedestal sold this year for $5,500.
Q: How do you spot a Shawnee Corn King fake? I recently purchased three Shawnee Corn King dishes at an antiques mall. When I got home, I noticed that the items did not have "USA" stamped with the Shawnee logo on the bottom like the rest of my collection. Are these fakes? Did all original Shawnee Corn King dishes have the "USA" stamp?
A: The dishes you just bought are probably reproductions. Corn King pieces with bases too small to fit the words "Shawnee" and "USA" are marked simply "USA" or are not marked at all. Compare the style of the logo on the dishes you just bought with the style on your other pieces. And compare the quality of the pottery and the way the corn rows align. Reproductions tend not to be as heavy or well made as originals, and some have the corn rows on top of each other rather than staggered, as they are on originals. Shawnee Pottery was in business in Zanesville, Ohio, from 1937 to 1961. A Georgia wholesaler now owns rights to the Shawnee trademark and has been selling reproductions marked "Shawnee" (without "USA") for a few years. Other copies, not marked at all, have been around for decades.
Copyright 2018 The Lawrence Journal-World. All rights reserved. This material may not be published, broadcast, rewritten or redistributed. We strive to uphold our values for every story published.