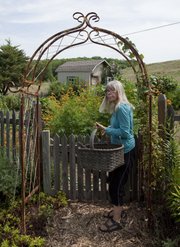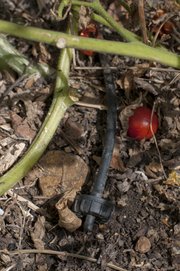 Sometimes I am surprised we can grow tomatoes and melons in northeast Kansas. Tomatoes are often attacked by fungi, bacteria, viruses and insects that destroy or eat the leaves and fruit seemingly overnight. Melons are also plagued by disease and difficult-to-control beetles that transmit pathogens from one plant to the next.
Experienced gardeners like Connie Spitz know how to combat the pests, though, or at least minimize losses. Spitz's primary methods of defense are to use raised planting beds, drip irrigation and heavy mulch. Stakes, cages and trellises also help to keep fungi at bay.
Spitz knows her tomatoes get a fungal disease called Septoria leaf spot every year. The disease starts on the lower leaves and is spread by water (rainfall or dew) that splashes fungal spores higher up on the plant. Frequent rains and high humidity often intensify the disease.
"I stake the ones that aren't vining," Spitz says of her tomato plants. Vining tomato varieties grow up a trellis in the same bed as the staked varieties. "If I don't, the vines will go everywhere. Sometimes the tomatoes will rot because they are on the ground."
Staking and trellising plants increases air circulation within the plants, helping the leaves to dry out more quickly and lessening the amount of Septoria. Mulch breaks up rainfall when it hits the ground, reducing the number of spores that splash onto the plant.
Spitz's other Septoria control method is to plant a few more plants than she thinks she needs. Then, if weather conditions are especially favorable and the disease decreases production on her plants, she still has a few tomatoes to enjoy.
The melons grow on flat ground but are heavily mulched and also watered with drip irrigation.
When the melon plants nearly fill the garden space, Spitz says, "I clip the ends of the vines. I just clip them at the ends to keep them contained. Otherwise they will just keep running." She pauses and laughs. "Sometimes the rabbits will clip them for me."
Unfortunately, even Spitz does not have an easy answer to controlling disease-transmitting cucumber beetles. She controls the weeds in and around the melons and keeps the plants as healthy as possible.
"This one's ripe," Spitz says as she picks a tasty-looking Ambrosia muskmelon. "When it starts to color up, take your finger and go like that. If it slips off the vine, then it's ready."
Spitz's "go like that" motion is to apply just a bit of pressure to the point where the melon is attached to the vine.
A portion of the drip irrigation system is composed of black plastic hoses with tiny holes that allow water to seep out. Another portion of the system uses emitters, or very small hoses, that are connected to a larger hose and also allow water to be dispensed over a longer period of time. The drip system minimizes splashing, reduces water loss from evaporation and allows the water to soak into the soil slowly. Drip irrigation components are available at many garden centers.
Although tomatoes and melons fill a large portion of Spitz's vegetable garden, she also grows cucumbers on the trellis with the tomatoes, and patches of arugula and basil fill any extra space in the raised bed. There are asparagus and blackberries along the fence and cosmos that re-seed themselves every year. The exterior of the garden is lined with Rose-of-Sharon, daylilies, irises and crape myrtles.
Spitz's advice to new gardeners: "Start small so it doesn't overwhelm you. You can't just plant it. The weeds and the watering will keep you busy enough."
Looking around, she adds, "I really like the raised beds. You don't have to worry about whether it's too wet or too dry in the spring. They are easy to plant. But they do dry out quicker in the summer, so you'll probably have to water a little more."
The fullness of Spitz's garden is also appealing. "I probably pack too much in," she admits. "Something is going to grow there, so it might as well be something I want. Put enough plants in and there won't be any room for the weeds."
— Jennifer Smith is the Horticulture Extension Agent for K-State Research and Extension in Douglas County. Contact her or an Extension Master Gardener with your gardening questions at 843-7058.
Copyright 2018 The Lawrence Journal-World. All rights reserved. This material may not be published, broadcast, rewritten or redistributed. We strive to uphold our values for every story published.