For years, rape survivors have called GaDuGi SafeCenter, asking for help in finding the right therapist.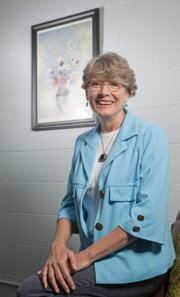 "Lawrence is graced with many therapists, all skilled and compassionate, but we were constantly on a search for that particular person who specialized in working with victims of sexual assault. And that person wasn't out there for us," said Sarah Jane Crum, the director of GaDuGi, Lawrence's sexual assault 24-hour crisis center.
GaDuGi support
GaDuGi counseling services are free to anyone who has been sexually assaulted at any point in his or her life.
To schedule an appointment, call Susan Miller at 843-8985, ext. 370, or e-mail her at counselor@sunflower.com. Miller will also conduct several support groups throughout the community.
The first will be from 1 p.m. to 3 p.m. Sept. 23 at Independence Inc., 2001 Haskell Ave. The public is invited. Through making art, the session will teach skills for people recovering from trauma.
Thanks to a $41,000 grant from the governor's office, Crum now can refer victims to GaDuGi's newest employee, Susan Miller.
Under the one-year grant, Miller, a licensed clinical professional counselor and trauma specialist, will hold one-on-one counseling sessions and host support groups throughout the community.
The therapy is free and available to anyone who has been sexually abused at any point in his or her life. It is also available to friends and family of sexual assault victims.
The missing link
For Crum, the therapy will provide a missing piece in the community's support network.
"This is an idea we have had for years and years," Crum said. "I think sometimes you put the wish out there and then you say to yourself, somewhere, somehow, some way, we are going to find a grant that supports that."
The U.S. Department of Justice's Office on Violence Against Women allocated money throughout the country to aid victims of sexual assault. Kansas will receive $409,000 over two years. GaDuGi was one of three sexual assault centers in Kansas to tap into the funding.
Juliene Maska, administrator of the Governor's Grants Program, said that as long as Congress appropriates the funding, the projects will continue. She also stressed the importance of offering free therapy for sexual assault victims.
"So often the population that does report (sexual assaults) is a young population and then with a large university community, they are not going to have access to funds to pay for mental health services, even with a sliding scale fee. So to be able to access good-quality service free of charge … is a good thing," she said.
While GaDuGi provides support in the hours after an assault and as victims navigate the legal system, it has never offered counseling. In the past, survivors have had to make numerous phone calls to find a therapist who was trained in treating trauma and one who was accepting clients. The cost of therapy can be expensive, even for people who have insurance.
"There is all kinds of layers that create barriers and we don't have to worry about that anymore," Crum said.
How to cope
A good part of Miller's work will be teaching survivors how to cope with the trauma of sexual assault.
"That adrenaline burst that you get when you are defending yourself — that is a huge amount of energy that courses through your body and that can get stuck there if you don't know how to settle it or if you don't allow it to settle," Miller said. "That is what causes symptoms of post-traumatic stress."
In some cases, PTSD can develop into other mental health problems, including depression, anxiety, bipolar and eating disorders.
Before joining GaDuGi three weeks ago, Miller had worked for 18 years as a counselor for Independence Inc. It was there that Miller gained experience working with clients suffering from trauma.
"I noticed real early on in my practice at Independence Inc. that people with disabilities have been traumatized over and over in all kinds of ways," Miller said. "I was seeing lots of suffering and I wanted to be able to help with that."
Miller will be practicing a therapy method known as somatic experiencing, which uses the body's sensations to help people develop skills in recognizing when their nervous system is aroused and to find ways to release that feeling. Patients won't have to relive or re-enact the trauma.
For clients who see Miller shortly after an assault, she will use Trauma First Aid, which was developed in the aftermath of Hurricane Katrina to help stabilize people who had just experienced traumatic events. The hope is that early intervention could prevent PTSD from forming later.
"You would never wish this upon somebody, but if it is going to happen, why not provide something that helps turn it around, so it can become something where a person has learned something from that experience," Miller said.
Copyright 2018 The Lawrence Journal-World. All rights reserved. This material may not be published, broadcast, rewritten or redistributed. We strive to uphold our values for every story published.