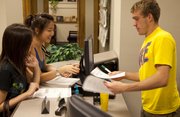 Jennifer King knows the importance of having a little extra money to help with tuition costs.
The Kansas University senior from Topeka transferred last year to KU from a junior college, and was aided by a Pell Grant.
"It allowed me to be able to pay for school without having to worry as much about paying for tuition as well as having a meal," she said.
As KU continues to try and meet student retention goals and standards set by the chancellor, financial aid officials know that money — and the lack of it — can be a major reason why some students leave KU.
King said she didn't qualify for a Pell Grant this year, but plans to make up for the costs by taking on a new research job at KU.
People like Stephanie Covington, associate director of student financial aid, take on the task of helping students find money wherever they can.
"We recommend that all students complete the FAFSA form," Covington said, referring to the free application for federal student aid, available online.
The FAFSA unlocks the door not only to a variety of federal sources of aid, but other state and private sources as well, she said.
It's recommended to get the form filed by March 1 of each year, she said. Students who have a change in their financial situation may file an amended form in the middle of the year that may qualify them for more aid.
Covington said she knows that the financial aid options can get overwhelming, so KU's office offers 30-minute general assistance appointments.
There, counselors discuss questions on filing FAFSA forms, what types of aid are available and which ones a student would qualify for, help with repayment options and even general budgeting advice.
KU's office of financial aid helps students with personal finance questions. A new office to address those needs is opening during the fall semester, in a space on the third floor of the Kansas Union.
"We want students to really think about their budgets and use the money that they have to make good financial decisions," Covington said
Copyright 2018 The Lawrence Journal-World. All rights reserved. This material may not be published, broadcast, rewritten or redistributed. We strive to uphold our values for every story published.