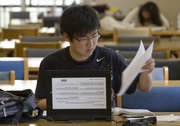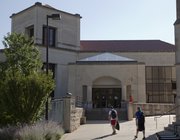 What has seven branches on campus, millions of free items and will be used by almost every student at Kansas University? The library system.
While many people think libraries are just for checking out books or studying, the KU libraries are changing the ways students can get help, do research and get through school.
Rebecca Smith, director of public relations and advancement at the libraries, said the libraries are definitely being used — 1.68 million times from July 2009 to June 2010, to be exact. And students are using the libraries for a number of different reasons: checking out one of the 172,000 books, getting help on research, attending classes that teach how to use resources, checking out laptops, taking home movies and CDs, and even finding a piece of sheet music.
Smith said the goal is to make these resources as easy to find as possible.
"We know that when students utilize the resources, they usually see their performance go up," she said. "We want to communicate in a method that's easy and comfortable for them."
Library reference desks have received 2,656 instant messages and text messages and 1,136 e-mails, which aren't the typical ways librarians are used to being contacted.
Smith said the library works hard to figure out the best way to work with students.
"I think that definitely reflects the changing ways that undergraduates are communicating," she said. "We work very hard to anticipate those changes."
In-person visits to the reference desk at Watson and Anschutz libraries were still the most common form of interaction with librarians, with almost 6,300 students.
One change made in recent years is that students can now check out laptops to work on projects and papers.
Despite their steep expense, computers haven't disappeared from the library's stock.
"We have a very limited loss on electronic equipment, and some things don't leave the building," Smith said. "I think there's a general understanding about what they should be used for."
Stephanie Roberts, a KU junior from Hays, often comes to Anschutz Library to use the desktop computers available there, even though she has one at home.
"If it's here, I'm not going to get distracted and surf, because I know people can see what I'm doing," she said.
In fact, the library is a regular stop on her route home after class.
"It's quiet, it's big and I'm more focused here," she said.
Roberts is one of thousands of people stopping in Anschutz, which was the most-visited library last year. The building registered 729,000 visits — that's about 24 visits per KU student on average.
But not every student who visits one of the libraries on campus checks out books to help them write papers or do schoolwork.
Smith said the library keeps a recreational reading collection of 300 to 400 books of bestsellers in nonfiction and fiction.
"When students read recreationally, it has a positive impact on their grades," Smith said.
Copyright 2018 The Lawrence Journal-World. All rights reserved. This material may not be published, broadcast, rewritten or redistributed. We strive to uphold our values for every story published.