Sheboygan, Wis. — Tiger Woods ate breakfast three times before he teed off in the first round of the PGA Championship. It was time for dinner when his second round began Friday.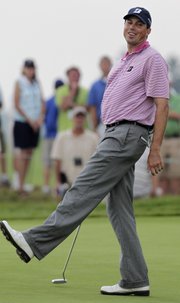 Bubba Watson walked off Whistling Straits atop the leaderboard after opening with a 68. He waited 30 hours for his next shot.
And then there's Nick Watney.
"I was talking with my caddie this afternoon, and we were talking about something that happened this morning," he said. "But we both thought it was yesterday. So it's been a long day. I'll have no trouble sleeping tonight and wake up tomorrow and see where we're at."
Not much is clear in the final major of the year.
At least not yet.
After two days — but not two full rounds — Matt Kuchar was atop the leaderboard after another rock-solid round on a soft course. He nearly holed out from the 13th fairway again during a stretch of three straight birdies that led to a 3-under 69.
Kuchar was at 8-under 136, one shot ahead of Watney, who had a 68.
"Not too much trouble to report in two rounds," said Kuchar, explaining the key to success in just about any major.
The only trouble was sleep. Kuchar woke up at 4 a.m. to get to the course and resume his second round at 7 a.m. But while it was clear on the practice range, it was soon tough to see the clubhouse 200 yards away, and players had to wait 21⁄2 hours to start. Kuchar made birdie on his first hole — the sixth — to take the lead, finished up his 67, had a quick lunch and played the second round.
"Sitting around right now, it's nice to be done," Kuchar said.
Copyright 2018 The Associated Press. All rights reserved. This material may not be published, broadcast, rewritten or redistributed. We strive to uphold our values for every story published.