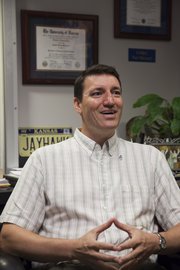 How to reach KU Info
You can call 864-3506 between 9 a.m. and 9 p.m., stop by the information booth on the fourth floor of the Kansas Union or at the kiosk on Jayhawk Boulevard across from Bailey Hall, visit the questions database online at kuinfo.ku.edu or text in a question.
The service takes e-mails — kuinfo@ku.edu — and can be found on Twitter at twitter.com/KUInfo.
When the info desk is open — 9 a.m. until 9 p.m. Monday through Friday (until 5 p.m. in the summer) text the word "kuinfo" and a question to 66746.
Sitting in his office near one of the busiest walkways on the Kansas University campus, Curtis Marsh says he's proud of the way the service he oversees has transformed itself.
KU Info has been admired by its users for its willingness to answer any question posed to it, but Marsh said that mission has needed to be tweaked in the electronic information age.
"The Internet is our co-pilot," said Marsh, who has overseen the question-and-answer service for five years. "The database we have on our website is the primary vehicle we have to answer our questions."
After a National Public Radio story on the service featured a Google executive calling it "an early version of Google," it got even more popular this semester, Marsh said.
The service began in the early 1970s as a way to control rumors after violent protests swept the campus. It transitioned into a service that could answer any question, and had a vast collection of index cards on a variety of topics to assist with the answers.
In a time of difficult budgets, Marsh said the service is a little more careful about making the claim that it will answer questions on any topic.
It's still fun, he said, and they still take those questions, but they try to focus on answering questions about the university.
Today, Marsh estimated about 90 percent of the questions the service fields are KU-specific — from enrollment deadlines to how to start a student group.
The other 10 percent are quirkier; one questioner recently asked if any children had been born on Antarctica. (The answer, by the way, is yes. There have been 11 births as of 2009).
Marsh has led a revitalization of the service, helping to bring it back from the post-9/11 era when the agency lost its funding and calls were directed to the KU library system.
Today, funded once again, KU Info staffers take calls (about 300 per day), e-mails, tweets, texts and visits from students.
The staff can't answer everything, but usually they can at least point people in the right direction.
Marsh said his previous roles at KU helped him to get exposed to a number of different parts of the university — in the 15 years he has been at KU, he has helped faculty members with technology transfer efforts and worked in marketing at KU's Continuing Education.
Those who work for Marsh say he gives them a wide leeway to pursue new lines of thought, and encourages everyone to think critically.
"Curtis has these great ideas, and rather than sit and stew on them, he makes them happen," said Jerry Wohletz, a KU student who has worked at KU Info for a year.
The service will be expanding again, thanks to an opportunity to become part of a renovation of Anschutz Library, Marsh said. A new KU Info booth will be available near the main entrance of that library — just another place where folks can get answers when Google lets them down.
"There has to be a place to go when you don't know where else to go," Marsh said.
Copyright 2018 The Lawrence Journal-World. All rights reserved. This material may not be published, broadcast, rewritten or redistributed. We strive to uphold our values for every story published.