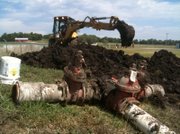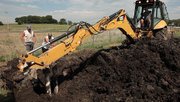 Tonganoxie — Repairs to a water main that broke overnight Thursday are complete, but Tonganoxie officials continue to ask local residents not to water lawns, fill swimming pools or wash vehicles.
At least for the next several days, as the city replenishes the amount of water lost when about 200,000 gallons of water spewed out of a broken pipe in the northeast area of town. The break in the 8-inch main was caused by a rusted valve.
Through the weekend, Wholesale Water District No. 6 in Bonner Springs will send water to Tonganoxie to help the city recover. The district normally supplies 25 to 40 percent of Tonganoxie's water.
But come Monday, the district will turn off the spigot. That's because the water district has a leak of its own to repair.
The Leavenworth County Fair is taking place this week in Tonganoxie.
"This is probably one of our high times for usage," Heskett said.
Before Thursday night's break, city crews had addressed at least one small water line break a day during recent hot weather, Heskett.
In Lawrence, Dave Wagner, city utilities director, said his department also has dealt with some minor water line leaks caused by the extreme heat. Hot weather dries out the soil, which can cause pipes to shift. In older piping, or those with even minor imperfections, leaks can occur, Wagner said. The issue is compounded in the summer, as more water flows through the pipes because water use is up.
The Leavenworth County Emergency Operations Center planned to remain on standby until mid-day Saturday, so other fire departments in the county are be available with water in the event of any fire emergencies in Tonganoxie.
Copyright 2018 The Lawrence Journal-World. All rights reserved. This material may not be published, broadcast, rewritten or redistributed. We strive to uphold our values for every story published.