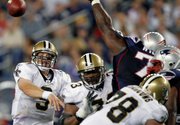 Foxboro, Mass — Patriots 27, Saints 24
The Super Bowl champion New Orleans Saints are leaving New England after losing their punter, a running back and their exhibition opener.
The team that won its first NFL title with the help of big plays couldn't stop them Thursday night. Stephen Gostkowski kicked a 28-yard field goal with 53 seconds left to give the Patriots a win.
The status of Saints punter Thomas Morstead is uncertain. He hurt his shoulder knocking Julian Edelman out of bounds after a 40-yard return. The Saints arrived in Foxborough on Tuesday for two days of joint practices with the Patriots. During the final session Wednesday morning, No. 3 running back Lynell Hamilton tore his right ACL and was helped off the field.
Gostkowski's game-winning kick was set up by a short pass by former Oklahoma State standout quarterback Zac Robinson that Darnell Jenkins turned into a 52-yard gain. The Saints also allowed kickoff returns of 52 and 50 yards by first-round draft pick Devin McCourty.
On his first series since being voted Super Bowl MVP, Drew Brees threw an incompletion and was sacked for a 10-yard loss.
Ravens 17, Panthers 12
Baltimore — Joe Flacco guided Baltimore's retooled offense to a pair of scores, and the Ravens defense held Carolina without a touchdown in a preseason victory Thursday night.
Flacco went 8-for-12 for 120 yards and a score. He produced a field goal in his first series, then went three-and-out before directing a 96-yard drive that ended with a 30-yard TD pass to Mark Clayton.
Carolina quarterback Matt Moore, hindered by poor protection and three penalties against left tackle Jordan Gross, failed to produce any points during his three possessions.
Backup Jimmy Clausen went 8-for-15 for 80 yards and an interception in his informal NFL debut. He was sacked twice.
A torrential rain began in the third quarter, causing a sloppy game to become even messier.
Raiders 17, Cowboys 9
Arlington, Texas — Just in case they didn't already know, the Dallas Cowboys got a reminder of the importance of getting touchdowns whenever they're close.
The Cowboys were within 16 yards of the end zone on four drives against the Oakland Raiders on Thursday night, yet managed only three field goals. It came back to bite them when the Raiders got two touchdowns and a field goal in the final 4:58 for a victory.
Dallas (1-1) had snaps from Oakland's 16, 13, 9 and 10 without getting into the end zone. One of those drives was stopped on downs, and the others were settled by David Buehler making kicks of 42, 27 and 28 yards.
Oakland went ahead, 10-9, with 2:24 left when first-string kicker Sebastian Janikowski nailed a 28-yard field goal. Swayze Waters had badly missed a 34-yarder at the start of the fourth quarter.
Raiders safety Jerome Boyd stretched the lead when he intercepted a deflected pass and returned it 48 yards for a touchdown with 33 seconds left.
Oakland's new starting quarterback Jason Campbell never came close to scoring on his four drives, finishing 7-of-13 for 49 yards. He converted only one third down out of six. He was sacked only once.
Copyright 2018 The Associated Press. All rights reserved. This material may not be published, broadcast, rewritten or redistributed. We strive to uphold our values for every story published.