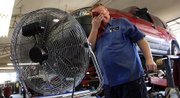 The National Weather Service has extended an excessive heat warning for Douglas County until 8 p.m. Saturday. The warning was originally set to expire Friday evening.
The temperature reached 105 degrees Friday afternoon, making it the hottest day of 2010 thus far and extending the city's triple-digit heat wave to six straight days. 6News Chief Meteorologist Matt Elwell said the last time Lawrence hit 105 degrees was three years ago on August 15, 2007.
A front moving into the area Friday may bring enough cloud cover to help cool things down a little. Storms are also expected to roll through the area Friday afternoon or during the early evening hours.
Despite this week's brutal temperatures, this summer doesn't even compare to some in Lawrence history. Currently this summer is ranking as the 14th hottest statewide since 1890.
According to Mary Knapp, climatologist for the state of Kansas, Lawrence saw over 60 days of 100-degree heat in 1934, making it the hottest summer on record. In August 1934 and again in August 1936 the city recorded its highest temperature ever at 114 degrees.
Copyright 2018 The Lawrence Journal-World. All rights reserved. This material may not be published, broadcast, rewritten or redistributed. We strive to uphold our values for every story published.