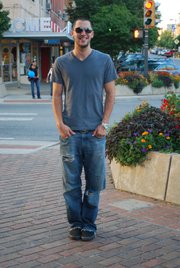 Age: 20.
Sign: Virgo.
Occupation: Student and sandwich artist at Subway.
Hometown: I wasn't born in Lawrence, but I consider it to be my hometown.
Time in Lawrence: Ten years.
What were you doing when scouted? Getting coffee with my girlfriend.
How would you describe your style? Comfortable and casual.
What are your favorite fashion trends? V-neck T-shirts. I'm a pretty simple guy.
What are your least favorite fashion trends? Silly-bandz.
What would you like to see more of in Lawrence? Dance parties.
What would you like to see less of in Lawrence? Hipsters.
Do you have any piercings or tattoos? I have one tattoo on the side of my torso.
Do you have any fashion influences? Tom Vandervelde.
People say I look like: My dad.
Tell us a secret: My roommate and I are the same height, and that's pretty neat.
Clothing details:
Shoes: Vans, Shark's Surf Shop, June 2010, $40.
Jeans: Old Navy, 2006, $28.
Belt: 2008, gift.
Shirt: Old Navy, June 2010, $5.
Watch: Fossil, 2007, gift.
Sunglasses: Gas station, July 2010, $14.
Copyright 2018 The Lawrence Journal-World. All rights reserved. This material may not be published, broadcast, rewritten or redistributed. We strive to uphold our values for every story published.