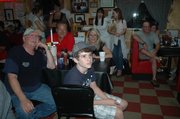 Bonner Springs — Customers and supporters crowded into Papa Bob's BBQ restaurant to watch the Bonner Springs restaurant being featured on a national television show.
When images of Bob Caviar, owner of Papa Bob's, came on screen Wednesday evening, the crowd broke out in applause and cheers.
Adam Richman, host of the Travel Channel's "Man v. Food," visited the restaurant May 12 to tape a segment for the show at Papa Bob's. Richman was there to battle the Ultimate Destroyer Challenge, a 12-inch sandwich, filled with four and half pounds of meat that must be finished within 45 minutes to claim victory.
Whether Richman completed the challenge was kept a secret until Wednesday's airing.
In the end, Richman was not able to claim victory and Caviar was forced to post a picture of the TV host on Papa Bob's "Wall of Shame" of people unable to finish the beast of a sandwich.
As the show came to an end and the crowd began to dissipate, Caviar took a seat in a booth and expressed relief that the show finally aired. The process started in January, when Caviar first found out Papa Bob's was being considered for the show. Caviar said it felt good to see the show air and have the pressure off his shoulders.
But it was the support of his loyal customers that really had him on cloud nine Wednesday night as everyone in the restaurant made their way to his side to offer their congratulations.
"I can't tell you how happy I am that we were one of the few chosen for the chance to be on a national program," Caviar said. "Things like this don't happen every day."
Copyright 2017 The Lawrence Journal-World. All rights reserved. This material may not be published, broadcast, rewritten or redistributed. We strive to uphold our values for every story published.