Photo Gallery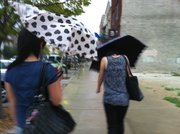 Aug. 11, 2010 storm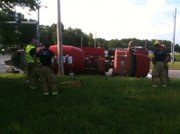 W. 2nd and McDonald Drive
A Thursday morning truck accident, coupled with Wednesday evening's storms, have caused numerous power outages across Lawrence.
Crews had to replace a power pole at West Second and McDonald Drive after a Penny's Concrete truck flipped on its side, knocking out power to more than 1,300 customers.
Deerfield School, 101 Lawrence Ave., was among those without power early on, but service had been restored by 9:15 a.m. or 9:30 a.m., said Frank Harwood, the district's chief operations officer.
The Lawrence school district's service center and its 75 employees — including the superintendent's office, other administrative divisions and some distribution and other operations — were left powerless from about 8:30 this morning until 1 p.m.
Emergency lights and computer servers ran on generator power, Harwood said, but other services were rendered inoperable. That meant computers and office phones — a system on which callers can leave messages but those behind the phones cannot answer.
Harwood said employees made do by sorting paperwork or seeking out computers elsewhere to conduct district business.
As a result of the accident, the Kansas Turnpike Authority discouraged semitrailers from using the west Lawrence turnpike exit 202 until repairs were made, but said the exit was open for all traffic about noon.
Reports indicate one person suffered minor injuries in the truck accident.
The outage caused by the accident occurred minutes after crews restored service to nearly every Douglas County customer who lost power during Wednesday evening's storm. Thousands were without power for periods Wednesday, as crews worked to repair damaged power lines.
Outages continued through the morning for hundreds of residents, including Evelyn Easum, who had to cancel the daycare she runs out of her home on Fair Lane, near the Douglas County Fairgrounds. Broken branches from the storm caused sparking in her backyard on two occasions during the night, but power was restored by the morning.
A spokesman for Westar Energy said it took the company extra time to restore power to some consumers because there were many smaller outages caused by fallen trees and branches that required removal by crews.
Much of the reported damage from the storm was concentrated to areas east of Massachusetts Street, stretching to Harper Street between 19th and 25th streets, said Jillian Rodrigue, assistant director of Douglas County Emergency Management.
The National Weather Service in Topeka said the storm was most likely a microburst. 6News meteorologist Matt Elwell said the storm produced wind speed in excess of 60 mph in some areas. When a storm produces a microburst, it's common for the areas affected by strong winds to be confined to a small area, while not affecting other portions of the city, he said.
"It's all about location," Elwell said. "It's happenstance; It's circumstance."
Copyright 2018 The Lawrence Journal-World. All rights reserved. This material may not be published, broadcast, rewritten or redistributed. We strive to uphold our values for every story published.