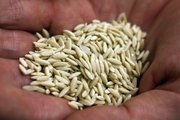 Seattle, Wash. — A simple bowl of white rice sits on a conference table inside the Seattle headquarters of global-health nonprofit PATH.
What looks and tastes like ordinary rice is actually the product of two decades of research and development.
For every 100 grains of rice, the bowl contains one grain of Ultra Rice. It's actually not rice at all, but pasta fortified with vitamins and minerals and squeezed through a rice-shaped mold. The manufactured grains are made from a mixture of rice flour, nutrients and binding agents derived from seaweed.
Originally the creation of father-and-son inventors from Bellingham, Wash., Ultra Rice is now being produced and tested around the world as a potential solution to malnutrition. Governments in Brazil and India are serving it in school-lunch programs, and the United Nations' World Food Programme is conducting a trial in Cambodia to see if families find it acceptable.
About 2.5 billion people consume rice as their main source of food. Many of them suffer from deficiencies of iron, folic acid, vitamin A and other essential nutrients.
In India, for example, a national study last year found that more than half of women and 70 percent of children younger than 5 were anemic. Iron deficiencies can harm brain development and increase the risk of hemorrhaging and death in childbirth.
Adding nutrients to rice can reach millions of people without asking them to change basic shopping, cooking or eating habits, says Dipika Matthias, who directs the Ultra Rice project at PATH in Seattle. In the U.S., products such as flour, milk and salt come fortified with vitamins and minerals.
The challenge: making pasta that smells, tastes and looks like rice, but packs a powerful combination of calcium, zinc, folic acid, thiamin and iron inside, can withstand heat and humidity in storage and doesn't wash away or break down when cooked.
Ultra Rice is made by pasta makers then blended with natural rice grains by rice millers, so by the time it gets to consumers, it can be cooked and eaten as usual. The grains are customized to meet the needs of each country — in India that's iron; in Brazil it's a combination of micronutrients. PATH won an award from The Tech Museum in Silicon Valley last year for its work on Ultra Rice.
It may be a technological wonder, but Ultra Rice has its own set of challenges. The price is 2 to 5 percent higher than traditional rice, and the target population is already among the world's poorest, so widespread distribution depends on government support and companies' willingness to limit their profit margins.
The project dates back to 1985, when James Cox and his son R.W. Duffy Cox set out to turn broken grains of rice into a more valuable product by grinding them into flour and extruding them through a pasta machine into rice-shaped kernels.
But it turned out to be more expensive than other rice products on the market and never got off the ground, said R.W. Duffy Cox, 47.
Then the U.S. Department of Agriculture saw its potential for nutrition and asked the pair of inventors to come up with a way to fortify the rice with vitamin A. Working at their tiny company, Bon Dente International in Lynden, Wash., they created and patented vitamin-enriched Ultra Rice with a six-month shelf life, then went in search of suitable commercial partners.
They didn't find any. In 1997, the Cox family donated the patents to PATH.
"My father and I had a lot on our plate," Cox said. "We thought it made good sense to put it into hands of people who could do it."
Eleven years later, the fortified grains made their debut in India under the brand Captain Paushtik Premixed Rice.
PATH partners with local pasta manufacturers to produce the Ultra Rice grains and works with rice millers and government food programs to blend and distribute the fortified product.
It has licensed the technology for free to commercial partners in Brazil, India and Colombia, which are required to make their Ultra Rice grains available to government buyers and consumers at preferential prices.
In India, PATH launched a pilot program with the Global Alliance for Improved Nutrition (GAIN) and the nonprofit Naandi Foundation in the state of Andhra Pradesh for a government-sponsored Mid-day Meal Scheme.
Swagat Food Products, a pasta manufacturer in West Bengal, produces the fortified rice and will supply it for another program beginning this year in Rajasthan, where the nongovernment organization Akshaya Patra will serve it daily to 185,000 schoolchildren.
In Brazil, Ultra Rice produced by local partner Adorella Alimentos is part of school-lunch programs this year for 100,000 children in three cities.
In China, the world's biggest producer of rice, PATH explored the market with Longevity Vita Bio-Tech, a company partly owned by the Chinese Center for Disease Control.
The project was put on hold after the extrusion process commonly used in China was found unsuitable for Ultra Rice, Matthias said. The heat used in the Chinese pasta equipment causes the Ultra Rice grains to fall apart. In Brazil and India, the manufacturing is a cold process.
Meanwhile, James Cox died in 1997 after the patents were granted to PATH, leaving his son to continue the Washington company that created technologies from oyster-shucking equipment to methods of eliminating salmonella in eggs. More than a decade after the donation to PATH, Duffy Cox said he hopes Ultra Rice can one day realize its full potential.
Once the benefits to health are demonstrated, it's up to national governments to set the right policies, as it was in the early days of food fortification in the U.S., he said.
"At some point, there has to be a meeting of the minds between business and government," he said. "The economics don't make sense until you can do that."
Copyright 2018 The Lawrence Journal-World. All rights reserved. This material may not be published, broadcast, rewritten or redistributed. We strive to uphold our values for every story published.