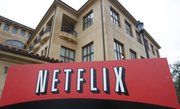 Los Angeles — Netflix Inc. will pay nearly $1 billion during the next five years for the online streaming rights to movies from Paramount, Lionsgate and MGM in a deal that could help convert even more people to the idea of getting their entertainment piped over high-speed Internet connections.
The agreement announced Tuesday marks another breakthrough in Netflix's bid to stock its online streaming library with more compelling material, so it can keep its subscription service relevant as on-demand video systems supplant its core business of renting DVDs through the mail. The online streaming push also helps the company reduce its postage bill for mailing DVDs.
The deal also makes the three studios' joint pay TV venture, Epix, immediately profitable.
Streaming movies provide more instant gratification than renting DVDs through the mail or from a store because the video can be delivered within 30 seconds over a high-speed connection. The video isn't stored on the computer hard drives owned by subscribers; it's just shown on a connected device, such as video game consoles. The concept has become more popular as more households have gotten high-speed Internet access and Netflix has obtained the streaming rights to more recent movies and TV shows.
Netflix's stock price has quadrupled during the last two years as the number of the company's subscribers has nearly doubled to 15 million. Meanwhile, traditional video stores have been closing, a trend reflected by the collapse of Movie Gallery Inc. and the struggles of Blockbuster Inc., whose shares are worth so little now that they were recently delisted from the New York Stock Exchange.
Copyright 2018 The Associated Press. All rights reserved. This material may not be published, broadcast, rewritten or redistributed. We strive to uphold our values for every story published.