Photo Gallery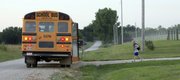 First day of elementary school
Lawrence students headed back to class on Wednesday, August 11, 2010 for the first day of elementary school.
One down, 174 days to go.
The first waves of students filed into Lawrence public schools Wednesday, beginning an academic year that promises new beginnings now and certain ends of eras come May: sixth-graders moving into middle schools, ninth-graders moving up to high schools, and who knows what else as administrators grapple with performance assessments, budget changes and other challenges that undoubtedly lay ahead.
Isabel Hardy, of course, has her own concerns.
"We get a lot of homework," said Isabel, a 10-year-old fifth-grader at Hillcrest School. "We'll get at least six pages of homework a day. That's what our teacher says. She said, 'Be prepared.' "
Isabel is among more than 10,000 students who start school this week in the district, where 950 teachers are among 1,800 employees whose weeks and months of preparations are springing into action — some amid last-minute complications.
At Quail Run School, maintenance workers spent the morning adapting connections for a new dishwashing unit in the cafeteria. At Schwegler School, a burst water main — a section of cast iron pipe running beneath a nearby parking lot — had threatened to cancel school, but city crews had repairs completed by 5 a.m.
"Hopefully we won't have any more problems," said Tom Bracciano, the district's division director for facilities and maintenance.
Rick Doll, district superintendent, didn't spend the first day of schools in his office. He dropped by Deerfield School and Free State High School early on, as he made the rounds throughout the district to see teachers, support staffers and administrators working together to give students the best opportunities to learn.
"It's fun to get into the schools when they're full of kids," he said, ducking into Quail Run.
Thursday means a regular schedule for all students in first through 12th grades, plus half of kindergartners; the other half of kindergartners start Friday. Preschoolers begin their school year Monday.
Copyright 2018 The Lawrence Journal-World. All rights reserved. This material may not be published, broadcast, rewritten or redistributed. We strive to uphold our values for every story published.