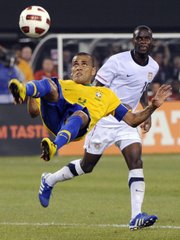 East Rutherford, N.J. — It didn't really matter which players Brazil put in the famous yellow shirts with the five stars.
In the first match for both nations since a disappointing World Cup, a mostly young and largely inexperienced Brazilian team rolled over the United States, 2-0, in a high-profile exhibition Tuesday night before an excited near-sellout crowd of 77,223 at the not-quite-ready $1.6 billion New Meadowlands Stadium.
Neymar scored in the 29th minute of his national team debut, Alexandre Pato added just his second goal for Brazil in first-half injury time and the new-look Selecao moved the ball more impressively than the veterans eliminated by the Netherlands, 2-1, last month in the World Cup quarterfinals.
"If we're going to get to the next level, we've still got to be a lot better," American star Landon Donovan said after a one-sided match that featured Brazil outshooting the U.S., 20-7.
In what may have been coach Bob Bradley's final game, Donovan thought the Americans should have been awarded a penalty kick in the third minute, when he was freed by Edson Buddle's pass in front of the goal and whacked by AC Milan defender Thiago Silva. Canadian referee Silviu Petrescu didn't blow his whistle, and Andre Santos cleared.
That was the best American chance, and Brazil won for the 15th time in 16 matches against the U.S. and increased its goal margin against the Americans to 31-10. Still, for a team that gave up early goals in three of four World Cup matches, the U.S. started well.
"I looked at the clock at 12 minutes, and I was happy," goalkeeper Tim Howard said.
Soccer
Hall welcomes new inductees
East Rutherford, N.J. — With the U.S. Hall of Fame building in upstate New York shuttered, Bruce Arena, Kyle Rote Jr., Thomas Dooley and Preki Radosavljevic were inducted during a ceremony in a stadium club at the New Meadowlands before the United States' exhibition against Brazil on Tuesday night.
The Hall building in Oneonta, N.Y., shut down in September except for special events and closed for good in February.
"The Hall is an important part of what we do," U.S. Soccer Federation president Sunil Gulati said during the two-hour ceremony. "The physical structure — someday we'll have that back."
College football
Paterno nominated for medal
State College, Pa. — Penn State football coach Joe Paterno has been nominated for the highest civilian award in the country.
Congressmen including Glenn Thompson, Mark Critz and Tim Holden say the Hall of Fame coach deserves a Presidential Medal of Freedom for his service to the Nittany Lions, the university and the State College community.
Tennis
Sharapova wins Cincinnati debut
Mason, Ohio — Tenth-seeded Maria Sharapova shook off a lackluster second set to dominate the third and pull out a 6-4, 1-6, 6-2 victory over Svetlana Kuznetsova in a first-round matchup of Russians at the Cincinnati Women's Open on Tuesday.
Kuznetsova's win in San Diego last week pushed her ranking to 14, one above Sharapova, but Sharapova used a 31-11 advantage in winners to overcome 39 unforced errors.
Federer sweeps; Roddick withdraws
Toronto — Roger Federer beat pesky Argentine challenger Juan Ignacio Chela 7-6 (7), 6-3 in his opening match at the Rogers Cup on Tuesday night.
The tournament lost a big name on Tuesday when American Andy Roddick withdrew with an undisclosed illness. The eighth seed will be replaced by France's Paul-Henri Mathieu.
NBA
Pistons, McGrady agree to deal
Detroit — Tracy McGrady is getting a chance to rejuvenate his career with a team hoping for a rebound of its own.
McGrady and the Detroit Pistons have agreed to a $1.3 million, one-year contract, a person familiar with the negotiations told the Associated Press on Tuesday.
Knicks ink free agent Mason
New York — The New York Knicks have signed free-agent guard Roger Mason Jr.
Mason has averaged 7.2 points, 1.8 rebounds and 1.5 assists in 346 career games with Chicago, Toronto, Washington and San Antonio.
Celtics sign F Harangody
Boston — The Boston Celtics have signed Luke Harangody, their second-round draft pick. The deal is for two years.
At Notre Dame, Harangody finished as the No. 3 career scorer in Big East history with 1,329 points and No. 2 rebounder with 662 rebounds.
Auto racing
Kahne to join Red Bull
Charlotte, N.C. — Kasey Kahne finally has a ride locked down for 2011, at Red Bull Racing, where he will spend one season before moving to Hendrick Motorsports.
Kahne signed on to replace Mark Martin in the No. 5 Chevrolet at Hendrick in 2012, and team owner Rick Hendrick had to find a place to keep his new driver for one season.
Track and field
Bolt won't race again in 2010
Coming off a rare loss at 100 meters, Olympic and world champion Usain Bolt is cutting his season short, saying he won't race again in 2010 because of tightness in his lower back.
Former Olympian found dead
Raleigh, N.C. — Former Olympian Antonio Pettigrew, a sprinter stripped of a gold medal after admitting to doping, was found dead in the backseat of his locked car early Tuesday.
Authorities said they are unsure if his death was accidental or a suicide.
Cycling
Armstrong pulls out of race
Leadville, Colo. — Lance Armstrong has pulled out of the Leadville Trail 100 mountain bike race in Colorado, a high-altitude race he won in record time last year.
Armstrong spokesman Mark Higgins said Tuesday that the cyclist is still feeling lingering effects of a hip injury suffered in a crash early in the Tour de France. Higgins said Armstrong also wants to spend time with his family before his children begin school.
Copyright 2018 The Associated Press. All rights reserved. This material may not be published, broadcast, rewritten or redistributed. We strive to uphold our values for every story published.