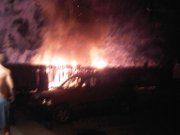 The improper disposal of charcoal briquettes caused a fire that burned down a storage shed minutes before midnight Tuesday at a home in the 1300 block of Tennessee Street, a Lawrence Douglas County Fire and Medical spokeswoman said.
Division chief Eve Tolefree said the fire caused an estimated $2,000 in damage to the outside shed but never reached the house, 1315 Tenn., on the property.
Nick Boehm, a Kansas University senior from the Kansas City area, was outside walking his dog when he saw flames in the backyard of the house.
"There were like four or five small explosions while I was on the phone with 911," he said. Boehm, who lives in apartments next door to the fire, said the flames were as tall as the trees before fire fighters were able to extinguish them.
Copyright 2018 The Lawrence Journal-World. All rights reserved. This material may not be published, broadcast, rewritten or redistributed. We strive to uphold our values for every story published.