Equestrian-inspired styles trotted onto the runway in 2010. Read on for this fall's fashion interpretation of classic horse-riding style.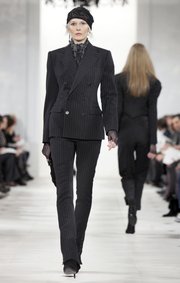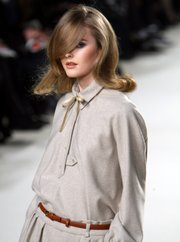 Jodhpurs:
The most important element of this season's equestrian style is the jodhpur riding trouser. Jodhpurs are typically ankle-length and fitted, and they may have either a tight cuff or stirrup at the bottom. Oftentimes, jodhpurs will have seams on the outside of the thighs and legs or patches on the inside of the knees, a design originally intended for reinforcement, creating a more durable horse-riding pant. Jodhpurs were first popularized by the British military and cavalry, but later adapted into popular culture as work pants and everyday wear.
Look for a high-waisted jodhpur, either entirely fitted (like leggings) or more loose-fit and trouser-like, complete with tapered legs. My absolute favorite jodhpur-inspired trouser is from Chloe's Spring 2010 collection; the pants have a relaxed fit and neutral, creme color, and they are finished with stirrups — all together exuding the perfect, dressy-casual style. Check out more jodhpurs by Ralph Lauren, Donna Karan, and Marc by Marc Jacobs.
High-necked Blouses:
For a classic way to style your jodhpurs, wear a crisp, white button-up — buttoned all the way up. This look is sophisticated and modern, a perfect complement to almost any skirt or pair of pants. Look for a button-down collar, complete with a small button at the points of the collars, or consider a standard regent-collar, which is the most commonly worn, standard shirt collar. For a fun, different look, buy a button-up shirt with a contrasting-color on its collar. All of these will be refreshing changes to the distressed, oversized look that is so popular right now.
Other ways to wear your jodhpurs:
If the cool weather ever sets in, slip on a cropped jacket to complement your jodhpurs. A blazer creates sharp lines, an all-around chic, put-together look. If button-ups and blazers seem a bit too fussy or dressy, do go for the oversized look on top. Also consider a more layered look by adding a cardigan or vest.
Check out:
• Equestrian-style boots by Roger Vivier and Charles David.
• Equestrian rain-boots by Givenchy.
• Stirrup and bit inspired jewelry by Gucci and Ralph Lauren.
• Plaid, high-necked blouses by Thomas Pink and Tommy Hilfiger.
• Chloe Fall 2010 for ideas to style your blouses and button-ups.
• Leather gloves and John Bull hats to complete the look.
• Topman's LTD "Equestrian" Fall 2010 Collection for line of menswear that includes boots, textured sweaters, and horse-print ties.
Copyright 2018 The Lawrence Journal-World. All rights reserved. This material may not be published, broadcast, rewritten or redistributed. We strive to uphold our values for every story published.