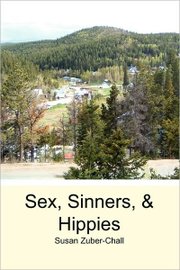 Past Event
When: Saturday, August 14, 2010, 7 p.m.
Where: The Raven Book Store, 6 E. Seventh St., Lawrence
Cost: Free
-->
-->
Topeka author Susan Zuber-Chall's newest book, "Sex, Sinners and Hippies," chronicles her experiences as a hippie living a pioneer lifestyle in the mountains of Colorado.
The story reveals how the author moved from a privileged middle-class background to being a battered wife and single mother who moves on to LSD and marijuana and finally finds herself in the mountains eking out an existence against the weather and poverty. Told with warmth and humor, she laughs at herself and her escapades while documenting an important time in the recent past.
The author took a few minutes to speak with Go! magazine about her experience and what she discovered about herself while writing the book. Zuber-Chall will also be speaking at 7 p.m. Saturday at The Raven Book Store, 8 E. Seventh St., about her experiences.
What from your experiences as a hippie do you bring with you to your civic work in Topeka, most notably as a human relations commissioner?
That sense of justice, that the people need someone to fight for their rights when they have no other recourse because someone with money and power has stepped on them, and their rights, and can get away with it because often justice is on their side.
Q: What was the most difficult experience during your time living in Ward, Colo.?
A: Life was not easy living at more than 9,000 feet in the mountains with no central heat, often frozen water, no plumbing to speak of and raising five children. However, as humans one of our best qualities is that we are adaptable and often can adapt to anything. So, we adapted and we thrived. One of the more important aspects of that is the sense of community that helped everyone in that process of adaptation. Hillary Clinton was correct when she said, "It takes a village to raise a child." This was so true in Ward.
Many people who have read this book ask me how I managed to survive everything and still emerge whole. We all have challenges to meet in life, and they must be resolved one by one, but the biggest challenge is to understand that we all do the best that we can given the circumstances surrounding us when we act. What this means is that we can forgive ourselves and move on and try harder to make a difference in life. Living in Ward and meeting those challenges was hard. My life has been difficult and I still face problems, but, believing that I can do my best to meet them is the one major lesson that I have learned.
Q: What was the biggest challenge raising children in what you've described as a pioneer existence?
A: The biggest was figuring out how to deal with cloth diapers for a baby when you do not have access to a washing machine and need to haul water everyday by the 5-gallon jug because your water is frozen.
Q: What was the most joyous experience?
A: The chapter in the book where I talk about home births and in particular the woman who had her baby in a cabin in the woods with many of the townspeople present urging her on in her labor, while supporting her husband, cleaning her house and helping to prepare for the baby. As we rode home with our children and the other townspeople, the fact that everyone had been a part of the birth gave everyone a feeling of parenthood, and as I say in the book: "We all helped bring another life into the world, and we all felt responsible for that life." Perhaps this is how it should be. An entire town involved in some manner with the birth of a child made everyone responsible. We all cared and would continue to care.
Q: What did you learn from LSD?
A: That although I enjoyed the sensation for a while, it became boring rapidly since I could not function while high, and I am a person who finds it difficult to idle away time when there is so much more to life.
Q: Would you recommend that young adults try some of the things you tried and describe in your book?
A: I would recommend that everyone must find and explore their own potentials in life in order to understand themselves and what they want and need out of life.
However, that being said, they should be strong enough to know when something is not good for them or that there is no future in their actions. It is that behavior, that when understood, leads to adulthood and the realization that we are responsible for our actions.
Copyright 2018 The Lawrence Journal-World. All rights reserved. This material may not be published, broadcast, rewritten or redistributed. We strive to uphold our values for every story published.