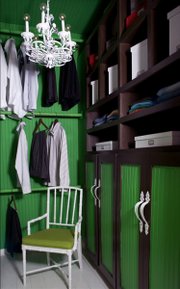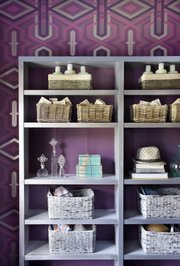 Interior designer Betsy Burnham doesn't buy many bookcases these days. She's more likely to create built-in bookshelves for the homes she designs.
Ditto for custom-made desks, built-in beds, window seats and more.
"I find so many of my clients are really interested in built-ins," says Burnham, who is based in Los Angeles. "Anywhere there is a niche, we're considering the space as an opportunity to build in."
The popularity of custom, built-in pieces may be partly a backlash against the cookie-cutter conformity of furniture at many major retailers. But for some homeowners, choosing a built-in piece is just practical: Small spare rooms or awkward spaces can take on new life when a built-in is added.
Custom-designed items may seem too costly to be practical. But if you make the right choices, says designer Brian Flynn, founder of decordemon.com, "built-ins don't have to be expensive."
"Built-ins are great for opening up possibilities in small spaces," says Atlanta-based interior designer Mallory Mathison. Depending on your needs and interests, she says, a small corner of your kitchen can become anything from a wine closet to a children's "art closet" to a built-in coffee station.
How to save
"If people want to go the extra mile and go with walnut or high-end exotic wood, you can," Flynn says. But a custom interior for a walk-in closet can be done beautifully and affordably with stain-grade plywood trimmed with MDF (medium-density fiberboard), "which is like particleboard, but it's perfectly smooth and looks great painted."
A smaller closet in a guest room or office can take on the feel of a built-in, Flynn says. Just remove the doors and use the Container Store's Elfa system to customize the space. "You only need a drill," he says, and the cost is kept down "because you do it yourself."
Another trick: Flynn suggests buying several Ikea "Billy" bookcases, which run about $50 each. Then have a carpenter add MDF trim to the front to "make them look like they're an inch and a half thick." Three "Billys" with trim will take up about 8 1/2 feet, he says, which may be enough to fill an entire wall. "Line them up along the wall," he says, "and it gives it a nice chunky look."
Any style
If shelves will be used for display, rather than being fully stacked with books, paint the interior an accent color so pieces will pop, Flynn says. Mathison likes playing with texture in that spot: antique mirrors, hardwood flooring, grasscloth and textured wallpaper all can "bring a graphic punch and bring in color" to the interior of a built-in bookcase.
Copyright 2018 The Associated Press. All rights reserved. This material may not be published, broadcast, rewritten or redistributed. We strive to uphold our values for every story published.