Kansas City, Kan. — Kansas University architecture professor Dan Rockhill used a small fan to blow air inside Studio 804's latest creation — a 1,700-square-foot home in Kansas City, Kan.'s Prescott neighborhood.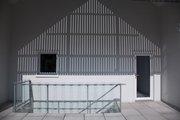 The long, narrow two-story house with charred Douglas Fir cladding and a massive row of windows on the south wall stood out among the mostly brick bungalows.
Just outside the front door, Rockhill's computer calculated how much air was leaking from the home.
The tests will help ensure that the home is certified as a Passive House, an energy-efficiency standard that only a few homes in the country attain.
For that attention to green building, the home — like previous ones built by Kansas University architecture students in Rockhill's Studio 804 class — has received national recognition.
But it's not attracting attention from those who matter most: buyers.
A few years ago, the houses that Studio 804 built sold like hot cakes in Kansas City, Rockhill said.
The recent decline in interest could be a combination of the depressed economy, lack of demand for top-of-the-line green homes and building in neighborhoods that Rockhill described as "areas of transition."
"I think that everybody understands that the housing market has been decimated over the last year. So I can't take it too directly," Rockhill said. "In some way, the fact that these houses are different may account for some of the concern."
The homes are different in both design and their focus on energy efficiency.
The Prescott home, which was finished in May and is priced at $190,000, has yet to find a buyer. Energy-efficient features include Austrian windows with airtight seals, a rain collection system, walls crammed full of insulation and a driveway that allows water runoff to seep through the concrete. The house was built with one wall of windows facing the south to gather more warmth in the winter.
The annual energy bill shouldn't be more than $400.
For more than a year, a $325,000 home in Kansas City's Rosedale neighborhood also has been for sale. That home has solar panels and a wind turbine. It is expected to generate all the energy its residents would need.
"I think clearly there are enlightened people who see the value of this. And like anything else, it is going to take time to appreciate what is here," Rockhill said. "I think we are ahead of the curve."
But in a down economy, green homes can be a hard sell.
Unless buyers see an immediate payback, many aren't interested in energy-efficient upgrades to homes, said Calli Schmidt, who is a spokesperson for the National Association of Home Builders. Buyers are more likely to go with what they can see, such as granite countertops or Whirlpool tubs over expensive home insulation.
Schmidt noted that there is a market for high-end, ultra efficient green homes — but it isn't a very large one.
For Studio 804, the longer the homes sit on the market, the lower the nonprofit's bank account gets. Right now, Rockhill says, Studio 804 has about $250 to its name.
"We are pretty well tapped out. We aren't bankrupted in that we don't have loans," Rockhill said. "We basically used money that I have been sort of shaving off every year."
The lack of funds means Studio 804 will have to return to its roots, working with community development corporations to help finance the project.
This fall, Rockhill is looking at a different kind of project — one with a prefabricated home.
However, Rockhill isn't ready to give up constructing green-minded homes.
"This only increases the resolve to just keep going. We'll figure something out," he said.
Copyright 2018 The Lawrence Journal-World. All rights reserved. This material may not be published, broadcast, rewritten or redistributed. We strive to uphold our values for every story published.