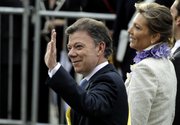 Bogota, Colombia — Eight years ago, homemade rockets fired by Marxist rebels rained down on the presidential palace as Alvaro Uribe took office, foreshadowing the all-out war that would come in his efforts to take back much of the country from potent guerrilla groups.
On Saturday, Uribe stepped down and Juan Manuel Santos took his place, the inauguration staged outdoors and the new president speaking of job creation, democratic checks and balances and rural development. It was not until the 34th minute of an hour-long speech that Santos mentioned his commitment to fight the rebels.
Santos' KU ties
Juan Manuel Santos, who graduated from Kansas University in 1973 with degrees in economics and business, is following the footsteps of his grandfather, who was president from 1938 to 1942. The outgoing vice president, Francisco Santos, is his cousin; he also studied at KU, attending classes from 1979 to 1981. The Santos family founded El Tiempo, Colombia's most influential newspaper, where President-elect Santos worked as an editor before serving as foreign trade and treasury minister in previous administrations.
The tenor of the day's ceremony reflected the sharp differences in style and substance that seem to be emerging between Uribe, whose government severely weakened the rebels, and Santos, a U.S.-educated technocrat and scion of one of Colombia's most politically influential families.
Since winning the presidency in a June 20 landslide, Santos has marked distance between himself and Uribe, signaling the arrival of a leader who, unlike his predecessor, intends to focus on a social agenda and the country's frayed relations with its neighbors.
"I will preside over a government of national unity that will bring social prosperity for all Colombians," said Santos, 58, delivering his remarks before Latin American leaders and a large delegation of U.S. congress members. "If we want to have economic and social development, we need to build unity among us."
A former defense minister in the Uribe government, Santos is expected to maintain the same tough approach toward the Revolutionary Armed Forces of Colombia, a waning, hermetic guerrilla group that has bedeviled Colombia since 1964. But Santos is emphasizing the need to address issues that were not priorities during the Uribe era, from improving Colombia's track record on human rights to seizing tens of thousands of square miles of farmland now in the hands of drug traffickers and corrupt politicians.
The shift could prove beneficial to Colombia by addressing the roots of political violence and helping Colombia gain standing internationally. For the Obama administration, Colombia's closest ally, a less ideological Colombian government more focused on social issues could help Washington improve relations with left-leaning Latin American governments, some of which view the Obama administration with the same suspicion they reserved for the Bush presidency.
The signals from Santos have stirred hope among lawmakers such as Rep. Jim McGovern, D-Mass., who has frequently traveled to Colombia and been a stalwart critic of Uribe's governing style. In an interview, he called Santos a "bright, and articulate and capable man."
Copyright 2018 The Lawrence Journal-World. All rights reserved. This material may not be published, broadcast, rewritten or redistributed. We strive to uphold our values for every story published.