Seattle — Bruce Chen scattered three hits over seven innings, and the Kansas City Royals held off the Seattle Mariners, 2-1, on Saturday night.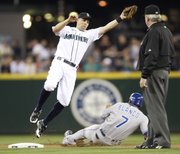 Chen (7-5) yielded a solo home run to Russell Branyan along with a pair of harmless singles. He struck out four and didn't walk a batter in his second-longest outing this season.
He is now 3-0 with a 2.27 ERA in six career starts against Seattle.
Blake Wood worked a scoreless eighth, and Joakim Soria finished it with a little drama in the ninth. Chone Figgins opened with a single and moved to second on a fielder's choice. Soria then struck out Branyan and Franklin Gutierrez.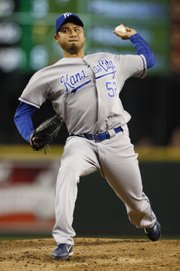 Soria picked up his 31st save in 33 opportunities. His 31 saves matches Tampa Bay's Rafael Soriano for the most in the American League.
The Royals scored their runs in the second off David Pauley (0-4). Mitch Maier and Mike Aviles reached on one-out singles. Chris Getz sent Maier home with a single to center, and Aviles scored on Gregor Blanco's fielder's choice.
Pauley went 51⁄3 innings, allowing five hits and two runs. He walked three and struck out four.
Branyan made it a one-run game with a first-pitch home run off Chen in the fourth, his 14th, to deep center field.
The Royals rallied in the sixth as Alex Gordon singled with one out, and Maier reached on an error. Sean White replaced Pauley. Aviles followed with a line drive with a promise of a two-run double, but third baseman Jose Lopez leaped to bring down. He then tossed to second to double up Gordon, ending the threat.
Copyright 2018 The Associated Press. All rights reserved. This material may not be published, broadcast, rewritten or redistributed. We strive to uphold our values for every story published.