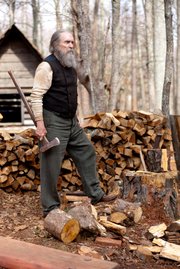 Washington — Everything Robert Duvall says, whether it's about meeting his wife or doing a play or making a crab cake, tends to turn into a yarn worthy of a Robert Duvall movie.
Ask him about "Get Low," the quiet Depression-era drama opening next week, in which he plays an eccentric recluse who stages his own funeral, and he'll wind up talking about the mule in the movie, a championship animal that hails from Front Royal, Va., and can "pray, go to the mailbox and play the piano" (and also rear, the only stunt required of her this time out).
Ask him about working with Sissy Spacek, who plays something of a love interest in the film, and he explains the proper pronunciation of her name ("Spa-check. It's a Texas-Czech thing"), notes that they live not far from each other on farms in Virginia, then ends with a disquisition on the joys of properly cooked meat.
"One thing I like about Argentina, they only cook with salt; that's it."
And that leads to a story about how he met his wife, Luciana Pedraza, on the street in Buenos Aires while filming the TV movie "The Man Who Captured Eichmann" in 1995. "Eichmann got executed in Israel and I got her," Duvall quips mischievously. "She's much younger than I am," he adds. (Duvall will turn 80 in January; Luciana is 38.)
"But we have the same birthday, January 5th," he says at lunch in a Washington restaurant. "When I met her father he said, 'I don't know whether to call you Father or Son!'" Duvall — in a natty jacket and blue oxford shirt that makes those familiar eyes even more piercing — speaks in a self-interrupting, Southern-inflected shorthand that recalls his folksiest characters.
The movie, directed by first-timer Aaron Schneider, takes its inspiration from the real-life story of Felix "Bush" Breazeale, who lived in Tennessee in the 1930s. Duvall plays Felix Bush, an old-timer who, bedeviled by rumors that have swirled about him for years, asks the local funeral directors (played by Bill Murray and Lucas Black) to stage a service so he can hear the stories told about him firsthand.
Duvall, who dons an Old Testament-worthy beard through the first part of the film, delivers a performance that is being praised as Oscar-worthy. And in many ways Felix eerily echoes Duvall's big-screen debut as Boo Radley in "To Kill a Mockingbird" nearly 50 years ago. Duvall became close friends with "Mockingbird" screenwriter Horton Foote, and they went on to work together on several films, including "Tender Mercies," for which they both won Oscars.
When Duvall got the "Get Low" script, by Chris Provenzano and C. Gaby Mitchell, he told Foote about it. "I kept saying, 'It's a lot like your films, with a little more edge,'" Duvall recalls. In March 2009, while he was filming "Get Low's" climactic scene, word came that Foote had died.
"It was like full circle for me, it was so spooky," the actor says. "But I think he would have liked 'Get Low' a lot."
Working with first-time directors has been lucky for Duvall: He produced and had a small role in "Crazy Heart," which won two Oscars this year and whose writer-director, Scott Cooper, credits Duvall as a mentor.
Even though Duvall has enjoyed a long and respected career in Hollywood (by way of the Highlands in Virginia, where he lives), he's more likely to rhapsodize over Iranian films as anything he's recently seen at the multiplex.
"Have you seen the movie by the 17-year-old Iranian girl called 'The Apple'?" he enthuses at one point. "Beautiful film. Just beautiful." Some of his more recent favorites include "The Secret in Their Eyes," "The Maid," "Gomorrah" and "The Hurt Locker," which he calls "my movie of the decade."
When he meets young filmmakers, Duvall says, he gives them some advice: "Look, Hollywood's a mecca, but it's not the final answer. You pick up a camera anyplace in the world, you can make a movie. ... My theory is, it's from ink to behavior. I don't care if you have just a video camera as long as you have the behavior."
And it's exactly Duvall's command of behavior that has made him one of the most consistently great movie actors, whether as the Irish consigliere to an Italian Mafia don in "The Godfather" movies or a bellicose colonel in "Apocalypse Now," a pathologically cruel father in "The Great Santini" or a broken-down country singer in "Tender Mercies," a fiery Pentecostal preacher in "The Apostle" or Gen. Robert E. Lee in "Gods and Generals."
After all those movies, all those indelible roles, can he choose a favorite?
"I would guess 'Lonesome Dove,'" he says, referring to the 1989 TV miniseries in which he played the expansive former Texas Ranger Gus McCrae. "I've been in movies that were A-to-Z better directed than 'Lonesome Dove,' but it was the overall arc of the story that meant so much. It's like a Bible in Texas.
"And 'The Godfather' is pretty seamless," he says in the day's biggest understatement. "A third of the way through (filming) 'The Godfather,' I said, 'I think we're in something that's going to work here.'"
Copyright 2018 The Lawrence Journal-World. All rights reserved. This material may not be published, broadcast, rewritten or redistributed. We strive to uphold our values for every story published.