Akron, Ohio — Sean O'Hair and Ryan Palmer were tied for the lead in the Bridgestone Invitational after Saturday's round.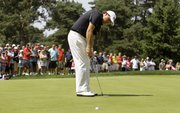 Phil Mickelson, who started the round one shot out of the lead as he closes in on No. 1 in the world ranking, stumbled to a 71, but still remained four shots out of the lead.
Tiger Woods, meanwhile, finished his 75 about two hours before the leaders teed off. He was 20 shots behind.
Golf
Cejka ahead at Turning Stone
Verona, N.Y. — Alex Cejka shot a 5-under 67 to move to 15 under and take a two-stroke lead after the third round at the Turning Stone Resort Championship.
Chris Couch tied the course record with a 63 and was alone in second place at 13 under.
Frost heats up at 3M
Blaine, Minn. — David Frost shot a 6-under 66 and was tied with Mark Calcavecchia for the lead after two rounds of the 3M Championship.
Playing with Calcavecchia, Frost made three birdies in a four-hole stretch on the front nine, before going eight holes without another. He made two more in the final four holes.
Soccer
Wizards play to 1-all tie
Kansas City, Kan. — Kei Kamara and Robbie Findley traded first-half goals, with Findley's equalizer salvaging a 1-all draw for Real Salt Lake against the Kansas City Wizards on Saturday night. Kansas City (5-8-5) extended its unbeaten streak to four matches and is 5-0-2 when scoring first.
Beckham hopes to return in Sept.
Pasadena, Calif. — David Beckham hopes to return to the Los Angeles Galaxy next month.
The 35-year-old English midfielder tore his left Achilles' tendon on March 14 while on loan to AC Milan in a Serie A match against Chievo Verona.
NFL
Haynesworth passes, finally
Ashburn, Va. — After passing the Washington Redskins' conditioning test, Albert Haynesworth was in no shape to practice.
Haynesworth finally conquered the 300-yard shuttle runs Saturday morning and was allowed to put on the pads for the first time at training camp, ending a will-he-or-won't-he spectacle that lasted a week and a half and made him the butt of jokes nationwide.
Coach Mike Shanahan had said Haynesworth could not practice until passing the test, and the showdown was seen as a statement of a new coach's uncompromising authority that wouldn't bend even for a two-time All-Pro with a $100 million contract.
Merely passing the test took enough of a toll to keep Haynesworth from getting through a full practice. After doing some defense drills — blocking sleds, recovering fumbles, etc. — he had a huge wrap put on his persistently sore left knee midway through the session and became a spectator again during the offense-vs.-defense team drills.
Hockey
Chelios to retire, work for Wings
Detroit — Red Wings general manager Ken Holland says Chris Chelios is going to work for the team.
Holland said Saturday night that Chelios' new job doesn't have a title yet and his specific responsibilities haven't been determined.
The 48-year-old Chelios played for the Atlanta Thrashers last season. The defenseman helped Detroit and Montreal win the Stanley Cup, won the Norris Trophy three times as the NHL's top defenseman and was an 11-time All-Star.
Tennis
Nadal, Djokovic to team up
Talk about a one-two punch: No. 1 Rafael Nadal and No. 2 Novak Djokovic are teaming up to play doubles together at next week's tournament in Toronto.
The ATP said it thinks it's the first time the men holding the top two spots in the singles rankings have partnered for doubles at a tournament since No. 1 Jimmy Connors and No. 2 Arthur Ashe did it in 1976.
Nalbandian reaches rare final
Washington — Playing in his first tournament since April, the 117th-ranked David Nalbandian overwhelmed No. 13 Marin Cilic, 6-2, 6-2, at the Legg Mason Tennis Classic on Saturday night to reach his first ATP final in 11⁄2 years.
Wozniacki battles to semi victory
Copenhagen, Denmark — Top-seeded Caroline Wozniacki has reached the final of the Danish Open after beating Anna Chakvetadze of Russia, 6-1, 2-6, 6-4.
Under pressure to win the inaugural Danish Open in front of her hometown crowd, Wozniacki wobbled in the previous two rounds and again needed three sets to get through on Saturday.
Kuznetsova cruises to finals
Carlsbad, Calif. — Svetlana Kuznetsova beat fifth-seeded Flavia Pennetta, 6-4, 6-0, Saturday to advance to the finals of the Mercury Insurance Open.
The unseeded Russian used her powerful forehand and took advantage of Pennetta's weak serve to win nine of the final 10 games.
Auto racing
Power captures another pole
Lexington, Ohio — Will Power recovered from a stumble in practice to capture the pole for today's IndyCar race at Mid-Ohio, turning in a lap time of 107.199 at the twisting 2.258-mile course.
Power tied an IndyCar record with his seventh pole of the season.
Ambrose wins Zippo 200
Watkins Glen, N.Y. — Starting from the pole for the first time at Watkins Glen International, Marcos Ambrose dominated the Nationwide Zippo 200 on Saturday and won the race for the third straight time. He led 60 of 82 laps and had a perfect driver rating of 150.
Copyright 2017 The Associated Press. All rights reserved. This material may not be published, broadcast, rewritten or redistributed. We strive to uphold our values for every story published.