Canton, Ohio — Jerry Rice and Emmitt Smith can stop the chase now.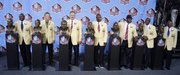 Linked as the NFL's leading receiver and rusher, two of the greatest players football has seen entered the Hall of Fame on Saturday night. Both admitted their destinies are fulfilled.
"This is finally it," Rice said. "There are no more routes to run, no more touchdowns to score, no more records to set. That young boy from Mississippi has finally stopped running.
"Let me stand here and catch my breath."
An hour later, Smith tried to hold back his tears as he reflected on his unequaled career.
"Most people only dream," Smith said. "I not only had my childhood dream, I did everything I could to fulfill it.
"You know what, I am now the all-time leading rusher. Wow. What an honor."
Rice was the man who took away everyone's breath during an incredible 20 years and was one of seven NFL greats to enter the shrine as the Class of 2010. It is one of the strongest groups ever inducted, also including John Randle, Dick LeBeau, Rickey Jackson, Russ Grimm and Floyd Little.
Rice holds every important pass-catching record as the game breaker in the West Coast offense for the San Francisco 49ers. In becoming the top target in the pro game's most dangerous scheme, he established marks that might never be broken.
Rice caught 1,549 passes, more than 400 beyond anyone else. He gained 22,895 yards, more than 7,600 ahead of second place. He scored 208 touchdowns, easily shattering the previous record. He made 10 All-Pro teams, was chosen for 13 Pro Bowls, and made receptions in an almost-unimaginable 274 consecutive games.
Yet, he says, at 47, "I still believe in my heart I could play today."
Smith began choking up during a one-minute standing ovation as he stepped to the microphone as the final inductee. He immediately praised Walter Payton, the man he surpassed as rushing king, and recognized the two other Hall of Fame members of the Cowboys' Triplets, Troy Aikman and Michael Irvin.
And he broke down when saluting his former fullback, Daryl Johnston.
"You took care of me as if you were taking care of your little brother," Smith said through wet eyes.
Smith rushed for 18,355 yards, with 164 touchdowns, 11 seasons with 1,000 or more yards on the ground, and 78 games with 100 yards rushing.
Copyright 2018 The Associated Press. All rights reserved. This material may not be published, broadcast, rewritten or redistributed. We strive to uphold our values for every story published.