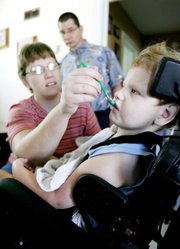 Great Bend — Beth Schneweis can see herself dashing after her young son, Christopher, as he runs off the airplane when they return from Germany this fall.
She was recently laughing out loud as she described the image that plays often in her mind.
The sounds of his mother chuckling caused 5-year-old Christopher, strapped into his specially designed tilt chair, to roll his head toward her and smile.
The idea of Christopher, who has cerebral palsy, walking off an airplane in a few months, after having additional stem cells injected into his spine at a clinic in Germany, is something she dreams of often.
But they are usually daydreams. Beth Schneweis doesn't sleep much, working the 11 p.m. to 7 a.m. shift as night support in a residential home for people with disabilities at Great Bend's Rosewood Services.
There is little time to close her eyes when she gets home. However, husband Mike, who works the 2 to 10 p.m. shift as a certified medical aide with Alzheimer's patients, gets their four children up and going. Christopher is cared for with the help of an attendant worker who comes into the home during the day. Along with Christopher, their family includes children from Mike's first marriage — Curtis, 11, Cierra 10, and 3-year-old Faith, who is autistic.
But the dream of the running child isn't totally unrealistic since the Schneweises learned of Xcell-Center, a private clinic and institute for regenerative medicine in Dusseldorf, Germany.
Christopher recently celebrated his 5th birthday. Born with hydrocephalus, a buildup of fluid inside the skull leading to brain swelling, he was rushed to Wesley Medical Center in Wichita. The fluid was drained and doctors inserted a shunt. A condition of cerebral palsy, which involves brain and nervous system function, was confirmed.
On this birthday there is a sense of hope in the Schneweis home. Christopher and his mom are getting their first passports.
Discussion centers on a series of fundraisers they are planning so they can raise $25,000, to not only pay for the procedure, which costs $13,700, but also to pay the expense of getting Christopher, Beth and two family members who will assist them to Dusseldorf.
Beth Schneweis learned about the stem cell procedure from an article in The Salina Journal about 3-year-old Marcus Fruits of Delphos, who went to the Xcell-Center in March.
According to Xcell-Center's website, one week and a day after treatment, Marcus had already started making progress, crawling, and walking a little. And since then he has been using his hands to sign to his parents.
Christopher has been approved for the procedure, which is not yet offered in the U.S. However, their insurance won't cover the expense. Currently the federal Food and Drug Administration has no licensed stem cell treatments.
The procedure involves extracting and treating Christopher with his own autologous stem cells. There will be no hospital stay; it will be an outpatient procedure.
Christopher will be lightly sedated and they will extract healthy stem cells from his hip. The next day they will test, and count them and let them grow. The following day his cells will be reinserted into his spinal cord.
According to its website, Xcell-Center is the first private clinic worldwide to hold an official license for the extraction and approval of stem cell material for autologous treatment. Therapy focuses on the treatment of cerebral palsy, spinal cord injuries, diabetes mellitus and neurological diseases/ disorders such as Parkinson's and stroke. They also work with multiple sclerosis and macular degeneration. Since January 2007, more than 3,000 patients have undergone various stem cell treatments.
"There is a 90 percent chance of this working," Beth Schneweis said.
Copyright 2018 The Lawrence Journal-World. All rights reserved. This material may not be published, broadcast, rewritten or redistributed. We strive to uphold our values for every story published.