Wednesday marked the college football debut for 15 incoming freshmen at Kansas University.
And although the upperclassmen did their best to help the newcomers break in with style, a few of the older Jayhawks couldn't help but find entertainment in the rookies' struggle to catch on during their first official day with the team.
"You want to help the freshmen as much as you can," third-year sophomore quarterback Kale Pick said. "But it's also kind of funny to point one out and look at them lookin' around with their heads swimmin'."
Par for the course, according to the guys who have been through KU's preseason football camp a time or two. Most Jayhawks on this year's roster remember well their day as the new guy on the field. That includes sixth-year senior Angus Quigley, who, as one of the oldest members of this year's team, said he could sense a huge gap between himself and some of the younger guys on the squad.
"I can tell it's a world apart," Quigley said. "We've got (running backs Brandon) Bourbon and (James) Sims and I can tell that their minds are going a thousand miles an hour. It's hard for a running back to come in and get comfortable with the pace of the game at this level right away. Everything's faster. But they'll catch up."
And, like it or not, their older teammates will help them do so.
Photo Gallery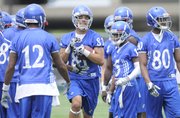 KU football practice, August 4, 2010
"Yeah, you have to," Pick said with a laugh.
Don't get the Jayhawks wrong. There's nothing they'd like more than to see the new guys catch on right away and move forward as if they were on campus a few months ago for the 15 practices during spring drills.
Because of the pace of the game, the expectations of the new coaching staff and the fact that the season opener is now just four weeks away, that's just not possible. So the older guys do what older guys do best. They lead. They answer questions. They pat the young'uns on the back during the tough times.
"We definitely help them," red-shirt freshman quarterback Jordan Webb said. "Any time they have a question, they know they can come to us. We were all in the same position as them at one point, so we definitely sympathize with them when they're a little bit lost."
In addition to Bourbon and Sims, several other first-time Jayhawks hit the practice field with high hopes. Wide receivers Brian Maura, Keeston Terry, Andrew Turzilli and Ricki Herod, tight ends Trent Smiley and Jimmay Mundine and offensive lineman Chad Kolumber are hoping to find a way to factor into the offense.
Because of injuries and suspensions on the opposite side of the ball, defenders Keba Agostinho, JaQwaylin Arps, Jake Farley, Pat Lewandowski, Dexter McDonald and Ray Mitchell may have an opportunity to earn playing time right away.
None of the freshmen were made available to the media on Day One, but KU coach Turner Gill mapped out a sure-fire way that the new guys could crack the lineup in 2010.
"If they've got some talent, (if) they make plays," he said. "If there's maybe one or two or three plays that we see they can make that maybe somebody on the team has not been making. Again, they gotta be consistent. But, more importantly, if they can show us that they can have some big-play ability. Whether it's offense or defense, it really doesn't matter, even if it's special teams."
Gill said Wednesday he could envision putting a couple of freshmen defensive linemen onto the field early on because of KU's lack of depth at the position. Beyond that, the rest of the rookies will get a shot to play their way onto the depth chart in the next couple of weeks.
"If they can do some things really well on maybe two-to-three teams on special teams or maybe be a second guy on offense or defense, we'll look at that and probably go ahead and play them," Gill said Wednesday. "But this is just the first day and we've got a lot of things to evaluate."
Copyright 2018 The Lawrence Journal-World. All rights reserved. This material may not be published, broadcast, rewritten or redistributed. We strive to uphold our values for every story published.