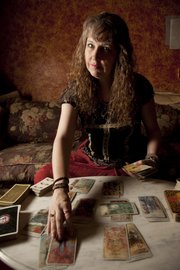 Imagine you're signed up to use 10 vacation days at Christmas, and you're trying to decide what to do with it.
Because you're a Virgo, it seems you should probably go somewhere remote. At least that's what Tripbase.com tells you in its travel horoscope, a new feature that uses astrological readings to help would-be vacationers narrow down their choices.
Cancers who log on for August will be advised to travel with a group and do volunteer work. For Geminis, the horoscopes recommend a vacation off the grid. Sagittarius vacationers should just leave the family at home.
The feature, introduced in June, enhances a popular three-year-old website that's devoted to helping travelers decide what they want to do, and where.
Tripbase, at www.tripbase.com, allows users to enter their travel preferences, such as cost, distance from home, and importance of amenities like dining and shopping, and returns with some destination suggestions.
For travelers who are still undecided, Tripbase has hired a pair of twin sister astrologers, one based in New York and the other in Seattle, to write customized travel horoscopes for every month.
The horoscopes don't make any recommendations about where to go, but they do suggest who to bring, who not to bring, what to avoid, and what to seek each month. Virgos in August are advised to travel solo or with a quiet companion only.
Capricorns traveling this month should start practicing phrases in foreign languages, and Cancers in August should digest the changes of two summer eclipses that touched on Cancer. For anyone who doesn't know what that means, the horoscope recommends rest and a spa.
Lawrence astrologer Kacey Carlson, who practices at The Village Witch in north Lawrence, is intrigued by the concept, but she says she's skeptical of whether astrology is the best way to predict a successful vacation.
"Astrology is a very generalized model. It's really at its best when what you're using it for is to assess a personality, rather than a specific event," Carlson says.

"You can look at the basic personality and a general overview of what the month's going to be like, which is pretty realistic, but there are many other factors to consider."
Carlson doesn't receive many requests for travel guidance from her clients but says, if she did, astrology wouldn't be the first tool she would use.
"If someone came to me and said, 'What's my trip going to be like and what should I have an eye out for?' ... I would be more likely to use tarot, because it's much better for short-term or specific situations."
Still need help? You can go on Twitter every Tuesday at noon and the Tripbase astrologers themselves will give you a personal reading.
When it comes to vacation, there are just too many options, says Pamela Johnston, a spokeswoman for Tripbase. Horoscopes help narrow it down.
"A lot of people turn to the stars for inspiration and guidance," Johnston says. "Even for people who don't believe in horoscopes, let them disagree and have fun and let that inspire them.
"As long as it gets you thinking what's really right for you, we've done the right thing."
— Staff writer Cathy Hamilton contributed to this story.
Copyright 2018 The Associated Press. All rights reserved. This material may not be published, broadcast, rewritten or redistributed. We strive to uphold our values for every story published.